'Chapo' Guzmán surfaces in photos chatting on plane, drinking beer, site claims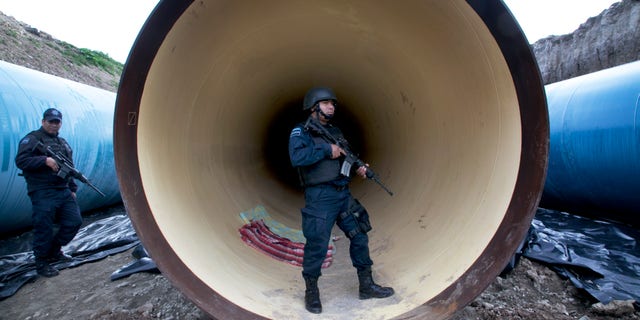 When two convicted murderers escaped in June from a maximum-security prison in upstate New York, they spent their first few days on the lam foraging for food and hiding in the woods. But when the world's most powerful drug trafficker slipped out of an arguably higher-security prison Saturday night, he spent his first days as a fugitive sipping beer and riding shotgun inside the cockpit of an airplane.
Tantalizing images of Joaquín "El Chapo" Guzmán appeared on the Spanish-language website "El Blog del Narco" and then circulated on social media, showing the head of the Sinaloa Cartel, who is approaching 60 years of age, nursing a beer while sitting next to two women and, in another, chatting with the pilot of a small aircraft.
The photos, which have not been verified, were allegedly leaked by one of the drug lord's sons. If real, it would be the first images of Guzmán since his cunning escape Saturday from the Altiplano maximum security prison in Almoloya, west of Mexico City.
Guzmán escaped through a 1-mile tunnel that opened into the shower area of the prison, Mexico's top security official announced Sunday.
The elaborate, ventilated escape tunnel built allegedly without the detection of authorities allowed Guzmán to do what Mexican officials promised would never happen after his re-capture last year — slip out of one of the country's penitentiaries for the second time.
Federal agents on both sides of the border have refused to comment on the veracity of the images, but at least one law enforcement expert suspects the images could be part of a hoax.
"I don't think (his son) would leak those photos because that could be used to try and apprehend Chapo, and that would be circumventing his planned escape," former Drug Enforcement Agent Mike Vigil told the San Antonio Express-News.
A manhunt began immediately for the head of the powerful Sinaloa Cartel, which has an international reach and is believed to control most of the major crossing points for drugs at the U.S. border with Mexico. The Mexican government has posted a reward of $3.8 million for any information leading to the arrest of Guzmán, who spent 13 years on the run after escaping from a different Mexican penitentiary in 2001.
The Associated Press contributed to this report.
Like us on Facebook
Follow us on Twitter & Instagram