Celebrities head to Jerusalem for Peres's birthday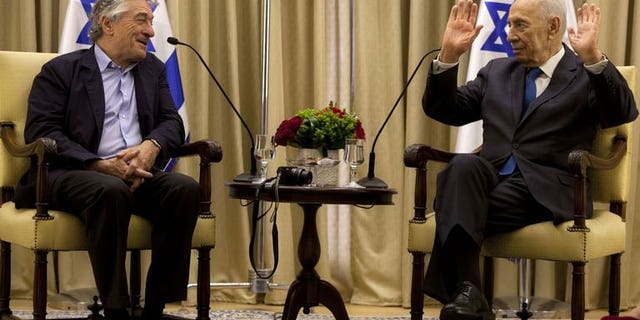 JERUSALEM (AFP) – A slew of stars, politicians and public figures were flocking to Jerusalem to take part in Israeli President Shimon Peres's 90th birthday celebrations to be held later on Tuesday.
Former US president Bill Clinton, British ex-premier Tony Blair, Monaco's Prince Albert II, and Canadian Foreign Minister John Baird are among figures who will attend the opening event of the fifth Presidential Conference, which will also be graced by the presence of Hollywood stars Robert De Niro and Sharon Stone.
Guests of the opening reception, beginning 1800 GMT and broadcast live to the world, will get a chance to hear American songstress Barbra Streisand singing her hit song People, as well as a Hebrew song from the Jewish prayer book appropriately entitled Avinu Malkenu, which translates to "Our father our king".
Peres, whose birthday is not until August, has already begun receiving birthday wishes, including from Pope Francis, whose Monday greeting included a quote from Psalms reminding the Israeli president of the divine blessing "With long life I will satisfy him and show him my salvation".
Peres was sworn in as president in 2007 after a long and eventful political career that earned him many foes at home, but he still commands great respect abroad, including for his role in the 1993 Oslo accords with the Palestinians that saw him win the 1994 Nobel Peace Prize.
The rather grandiose celebrations for Israel's elder statesman, which media say is costing millions of dollars, comes as the parliament debates a harsh austerity budget.
An opinion piece on Tuesday in daily Maariv titled "Contempt and plundering" slammed the president's "galactic" and "self-promoted" birthday.
"His extravagant birthday conveys contempt to the people, condescension," rightwing columnist Amnon Lord wrote.
"The plundering -- that's self-evident," he continued, noting however the events were not paid for by the state but rather private donors.
"What the Israeli public should ask itself is how is it that Peres always does whatever he wants, and the public stands by helplessly in the face of his tricks?"