Cave rescue effort underway in Thailand; may take days, officials say
A rescue effort to free 12 youth soccer players and their 25-year-old coach, who have been trapped in a cave in northern Thailand for two weeks, was underway Sunday, according to reports.
A group of four of the boys was reportedly being led out of the cave, after all of the trapped group underwent training for using scuba equipment, Australia's News.com reported.
Sunday's initial rescue effort was expected to continue into the evening due to the long journey from where the boys are located.
The effort's leader, Chiang Rai acting Gov. Narongsak Osatanakorn, said the earliest that the first group of boys was expected to emerge is 9 p.m. local time -- about 11 hours after the start of the operation.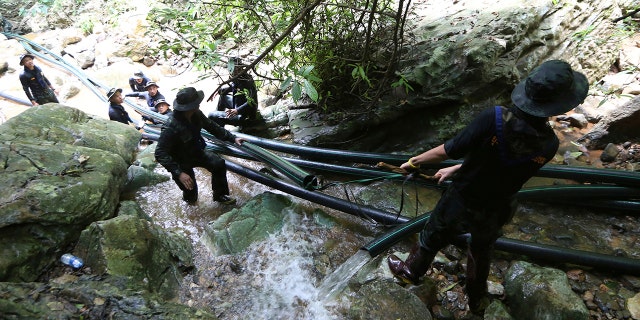 13 ambulances and helicopters in two separate locations are ready to transport them to hospitals, Osatanakorn said.
The entire mission may last three to four days, as the boys are expected to come out gradually, officials said.
Eighteen divers – 13 international and five Thai – entered the cave around 10 a.m. local time Sunday. The families of the boys and their coach have reportedly been informed that the rescue effort is underway.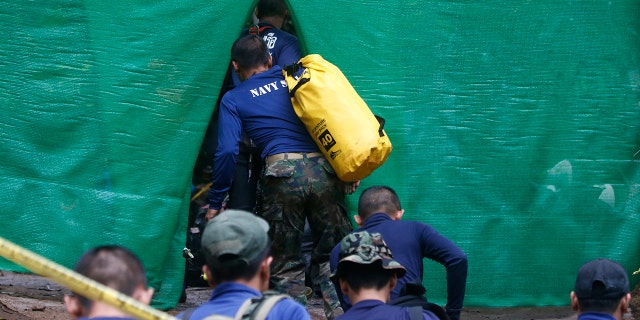 Rescue and medical teams have been preparing for three days and are ready to treat those who emerge from the cave.
During a news conference Sunday, Thai officials thanked the media for their cooperation in clearing from the rescue area, saying that emergency responders needed space to work.
"We will still maintain our planned mission and the two main obstacles are time and water," a spokesperson said.
The official said the rescue effort would not proceed until the team was "100 percent ready."
Weather, water, and the condition of the boys were "factors affecting the readiness" of the rescue attempt.
Drilling has been ruled out as a possibility in the rescue attempt, one official said.
The Associated Press contributed to this report.
This is a breaking news story.