Canadian Family Fights to Keep Boy's Breathing Tube in Place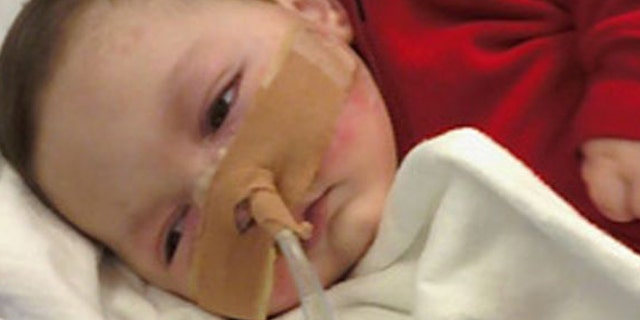 The Canadian family of a 13-month-old boy clinging to life support has defied a court order to remove the boy's breathing tube and now is looking to an American hospital for what experts say would be a miracle recovery.
The boy, Joseph Maraachli, has been in a vegetative state at a hospital in London, Ontario, since last fall. He's been treated for a neurodegenerative disease that doctors ruled leaves no hope for the boy.
A Superior Court judge, in turn, ordered that Maraachli's breathing tube be removed on Monday. But his family refused, insisting that the boy be released to his family's care, according to CBC News.
"I belive in my son," Moe Maraachli, the boy's father, told Fox News on Monday. "I will never let my son die in the doctors' way."
The family says removing the ventilator would promise an agonizing death for the boy. They asked that doctors at least perform a tracheotomy that would allow Joseph to die at home, but the Canadian hospital has refused.
The parents now are trying to move their son to a Detroit hospital. The Children's Hospital of Michigan agreed to look at Joseph's lengthy medical record and determine whether he's a candidate for transfer.
Moe Maraachli, appearing Tuesday on "America Live with Megyn Kelly," criticized his son's treatment at the Canadian hospital, comparing it to a jail. He went on to say that he would not consent to taking Joseph off the ventilator under the court's recent ruling.
"He's a human," he said. "He has a right to fight."
Laurie Gould, a spokesperson for London Health Sciences Centre, told CBC News that no official request has been received from Michigan for a transfer and that that the hospital would await further direction from the Public Guardian, a Canadian office that defends those who cannot defend themselves.
That office could rule as soon as Tuesday whether Joseph must be taken off the ventilator immediately.
Joseph's case has drawn the attention of activists like the Euthanasia Prevention Coalition and has been compared to the case of Terri Schiavo, the Florida woman in a similar vegetative state who gained international attention after her husband was granted the right to remove her from her feeding tube over the objections of her parents.
Comments on the "Save baby Joseph" Facebook page read like prayers -- many challenge doctors' opinions and evoke biblical passages for support.