Canada's Villeneuve brings new kind of thriller to Toronto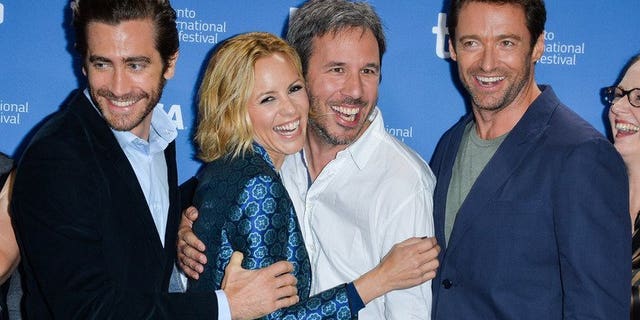 TORONTO (AFP) – Quebec filmmaker Denis Villeneuve unveiled a new kind of thriller at the Toronto film festival Saturday, a layered morality tale that explores every parent's worst fear -- a child's abduction.
"Prisoners," starring Hugh Jackman ("Les Miserables," "X-Men"), Jake Gyllenhaal ("Brokeback Mountain"), Melissa Leo ("The Fighter"), Paul Dano ("Little Miss Sunshine," "There Will Be Blood"), Maria Bello ("A History of Violence") and Terrence Howard ("Crash"), asks: How far would you go to go in the face of such horror?
It follows Jackman as a panicked father in a desperate search for his and his wife's and his neighbors' two daughters who disappear during Thanksgiving dinner in a Boston suburb, and the police detective (Gyllenhaal) leading the investigation into their disappearance.
Frustrated by a lack of police results and a prime suspect (Dano) in his crosshairs, the father of one of the girls (Jackman) decides to take matters into his own hands to try to force a confession.
The film looks at "the whole spectrum of human reaction towards violence and torture," Villeneuve told a press conference.
The filmmaker ("Incendies") credits scriptwriter Aaron Guzikowski, who said he based it on his worst fears: "losing things or being lost."
"It's a very hard film to watch," commented Gyllenhaal. Most of the cast urged parents to either not let their children watch it or sit down and discuss it thoroughly with them afterwards if they do.
"This touches on elemental fears," added Jackman, who recalled his wife pulling away from him at the premiere during moments of his character's shocking brutality.
"My wife was holding my hand and I literally had nail markings in my hand as she gripped it," he said.
Then during one particularly tense scene with Howard and Dano in a cramped bathroom in which Jackman's character presses for answers, "she just removed her hand from mine and I thought, maybe I'm not sleeping in the marital bed tonight."
"It is uncomfortable (to watch)," he said. "It subverts the (thriller) genre."
"You think you're going down this path with this guy (the father looking for his daughter) and then, (you think) 'Yeah, let's enact some rightful justice,' and all of a sudden you feel uncomfortable, and that forces you to question why, if you went along with him, why you just so easily went along with that way of thinking and then it asks, 'What would you do, what would I do in that situation?'"
Those "grey areas" makes the film so powerful, he said.
Villeneuve, who ventured form his native Quebec to Hollywood for first time to make "Prisoners," is also presenting "Enemy," starring Gyllenhaal at the Toronto film festival.
He noted that he would like to direct a comedy after making so many dark films, but is filled with "anguish" and so that is currently the kind of scripts he ends up embracing. He did not offer any reasons for his mood.
In a moment of levity at the press conference, Maria Bello commented that for her making this film, "It was very difficult playing Hugh's wife and never being able to touch his lips, to feel his face, his abs, because -- you know, I'll never be cast as his wife again."