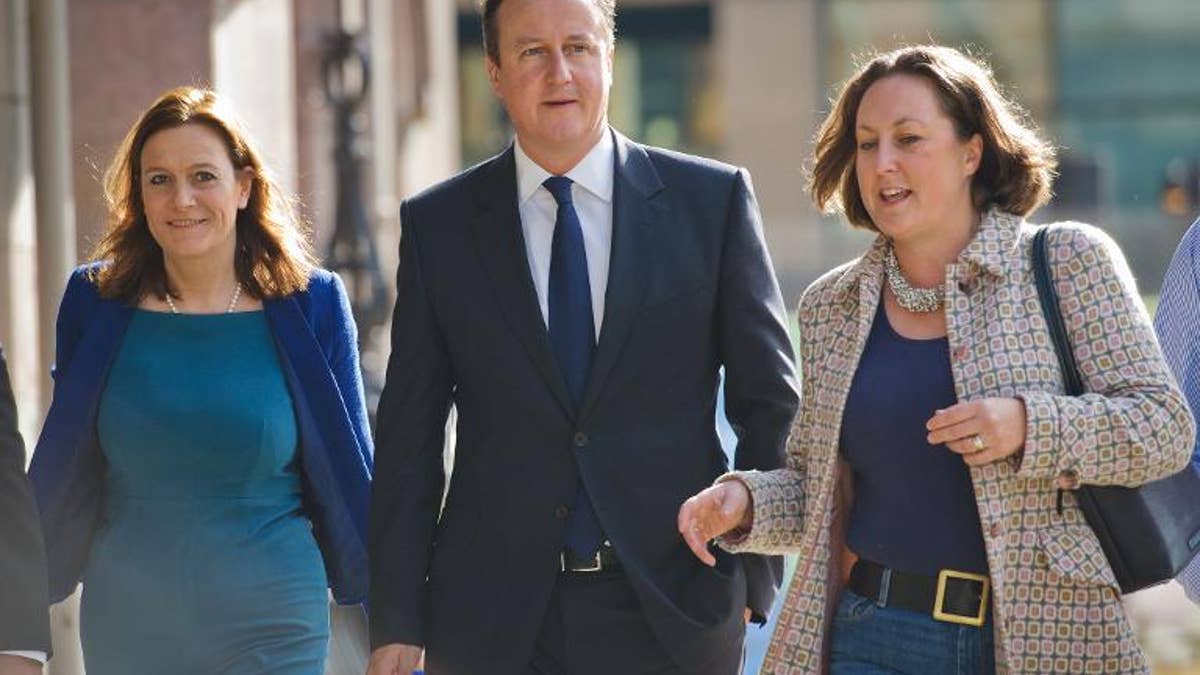 Manchester (United Kingdom) (AFP) – British Prime Minister David Cameron said Sunday the austerity drive pursued by his government was "beginning to pay off" after his Conservative party announced two potentially crowd-pleasing measures ahead of its annual conference.
With the long-struggling economy showing signs of recovery, Cameron said a scheme to allow first-time buyers in England to take out home loans of up to 95 percent of the price will be launched next week -- three months ahead of schedule.
The measure has been largely well-received in a country where home ownership remains a goal for most, and it came on top of a Conservative move to introduce tax breaks for married couples.
Heading into the conference in Manchester, Cameron insisted it was the right time to introduce the Help to Buy scheme because the market was "recovering from a very low base", and dismissed fears it would fuel a housing bubble.
"As prime minister, I am not going to stand by while people's aspirations to get on the housing ladder are being trashed," he told BBC TV.
The pledges will be seen as a riposte to the main opposition Labour party's pledge to freeze energy bills if it is elected in 2015.
Cameron's reputation on the world stage was damaged by his defeat over Syria in August, when lawmakers forced him to back down on threats of military strikes over the regime's alleged use of chemical weapons.
But the Conservatives' poll ratings are improving as the economy is finally showing signs of recovering from the effects of the 2008 global financial crisis, in what ministers see as a vindication of their programme of deep cuts to public spending.
At this time last year, Labour had a 14-point lead in polls, but the Tories have closed the gap.
A YouGov poll for the Sunday Times put Labour on 42 percent and the Conservatives on 31 percent.
'Ever-present tensions'
The Tories' ever-present tensions over Europe have also calmed, after Cameron promised to renegotiate Britain's membership of the EU before putting it to a referendum by 2017.
But commentators warn there is no room for complacency if the Conservatives want to win a majority at the 2015 election, which would allow them to govern without their Liberal Democrat coalition partners.
A major issue remains the challenge from the UK Independence Party (UKIP), an anti-immigration party calling for Britain to exit the EU which threatens to syphon off some of the Tories' traditional support.
Although they do not have any members of parliament, UKIP came third in local elections this year and are predicted to finish first in European Parliament elections in May.
Some Conservative lawmakers will use the Manchester conference to push for more clarity about what powers Cameron intends to claim back from Brussels before holding the referendum.
Graham Brady, chairman of the 1922 Committee that represents Conservative backbench lawmakers, said Cameron must show his hand before the European elections.
"We've been very clear that the public will have the final say about [whether] what we negotiate is acceptable or not, but I think it's essential to be up-front and clear and we also need to be really quite radical," Brady told The Times.
Some lawmakers have called for an earlier referendum, before the 2015 election, but Cameron insists this is impossible as long as the Tories share power with the pro-European Lib Dems.
The prime minister will likely use his conference speech on Wednesday to pledge his support for the three-year-old coalition.
Lib Dem leader Nick Clegg, the deputy prime minister, made clear to his party earlier this month that he wanted to maintain the status quo.
But both sides are starting to emphasise their differences as they limber up for the 2015 vote.
Labour leader Ed Miliband set out some battle lines in his conference speech this week, shifting to the left with a promise to freeze energy bills for 20 months if it is elected.
"The Tories need to rise to the challenge of a Labour message that they may have underestimated," wrote Conservative commentator Tim Montgomerie this week.