Cameron says Britain has won allies on EU reform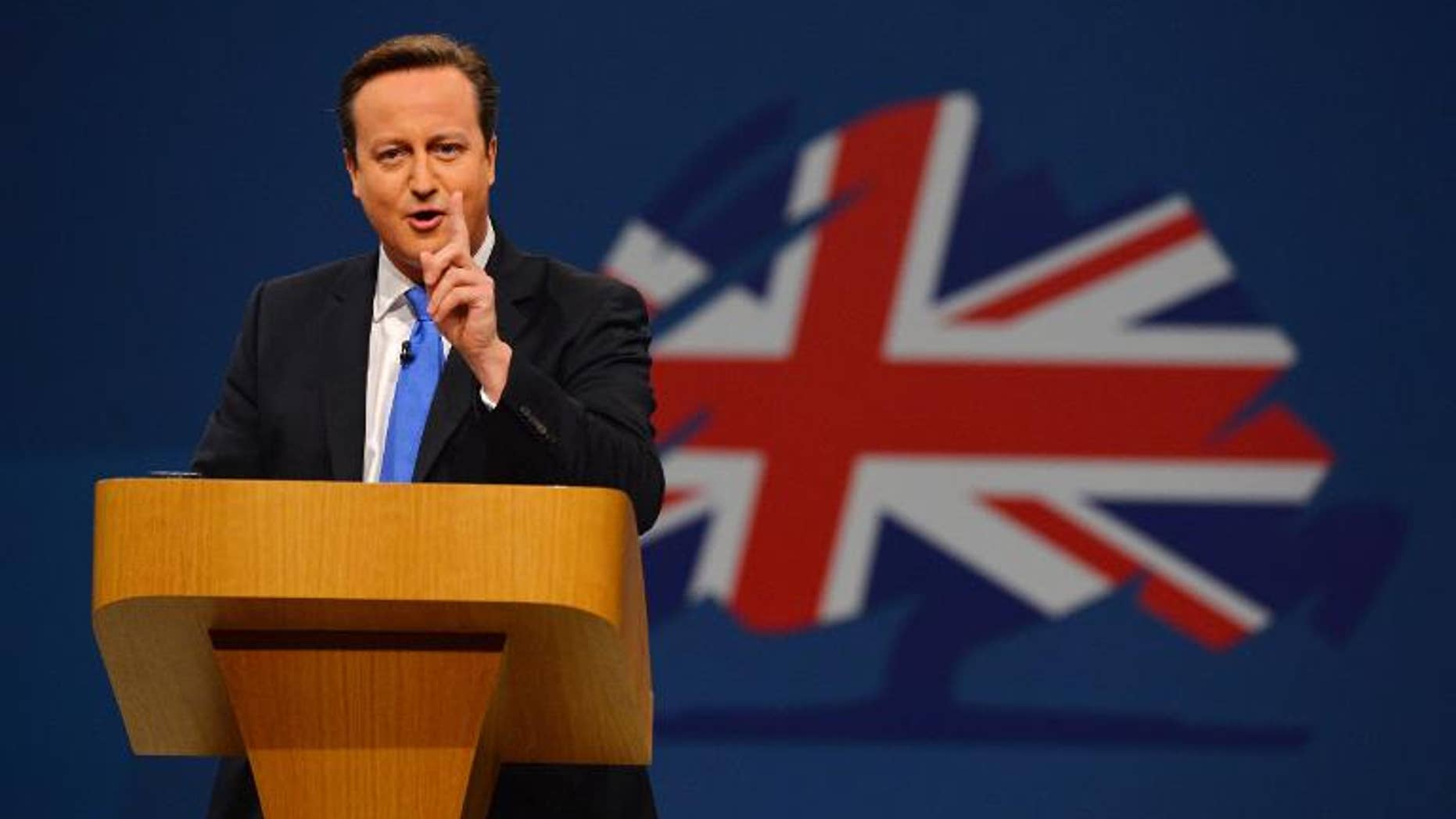 Manchester (United Kingdom) (AFP) – Britain has won allies in Europe in its battle to win back powers from Brussels by taking a strong stance on the issue, Prime Minister David Cameron said on Wednesday.
In a speech to his Conservative Party's annual conference, Cameron dismissed criticisms that he had isolated Britain from its partners in the European Union.
Cameron has promised to renegotiate Britain's relationship with the 28-nation EU and put the new terms to an in-out referendum in 2017 if he is re-elected in 2015.
"People say a lot of things about Europe: 'You'll never be able to veto an EU treaty, you'll never cut the EU budget and if you did any of these things you'd have absolutely no allies in Europe'," Cameron told delegates in Manchester, northwest England.
"Well we proved them wrong. I vetoed that treaty, I got Britain out of the EU bailout scheme and yes I cut that budget," the British premier said.
"And in doing all this we haven't lost respect, we have won allies to get powers back from Europe.
"And that is what we will do, and at the end of it, yes, we will give the British people their say in a referendum.
"That is our pledge, it will be your choice, in or out."
Cameron angered other European leaders when he torpedoed a fiscal pact aimed at tackling the eurozone crisis in late 2011 but won support for efforts to cut the EU budget this year.
He has held talks with German Chancellor Angela Merkel and other northern European leaders in a bid to find allies for his plan for EU reforms, which he has yet to set out in detail.
Ahead of a general election in 2015, the Conservatives face internal pressure and from the anti-EU UK Independence Party (UKIP) on an issue that has split the Tory party since the days of Margaret Thatcher.
The Liberal Democrats, the junior partners in Britain's coalition government, said at their conference last month that they would campaign to stay in the EU.
There has been speculation about a possible deal between the Conservatives and UKIP ahead of the election.
But Conservative grandee Michael Heseltine triggered a row with the upstart party when he described it on Wednesday as "racist".
Warning against any deal, the former cabinet minister under Thatcher told the BBC: "Of course it's racist... who doubts that, the language, the membership, the rhetoric."
"We've seen UKIPs before," added Heseltine, who now sits in the House of Lords, the upper chamber of parliament.
"It was called Powellism, on the continent it was called Le Pen and Poujade," he said, referring to the right-wing politicians Enoch Powell, from Britain, and Jean-Marie Le Pen and Pierre Poujade in France.
"You always have these right-wing racist operations pandering to the lowest common denominator of politics and that's what's happening. When it comes to a general election the choice will be very simple."
Heseltine's comments echoed those made by Cameron in 2006 when he described UKIP as a "bunch of fruitcakes and loonies and closet racists."
UKIP denied being racist and called Heseltine a "dinosaur".
Conservative minister Kenneth Clarke meanwhile spoke up for Britain's EU membership.
He said on Tuesday that if UKIP helped lead the country into isolation, "I weep for England. I would worry for the fate of my children and grandchildren."