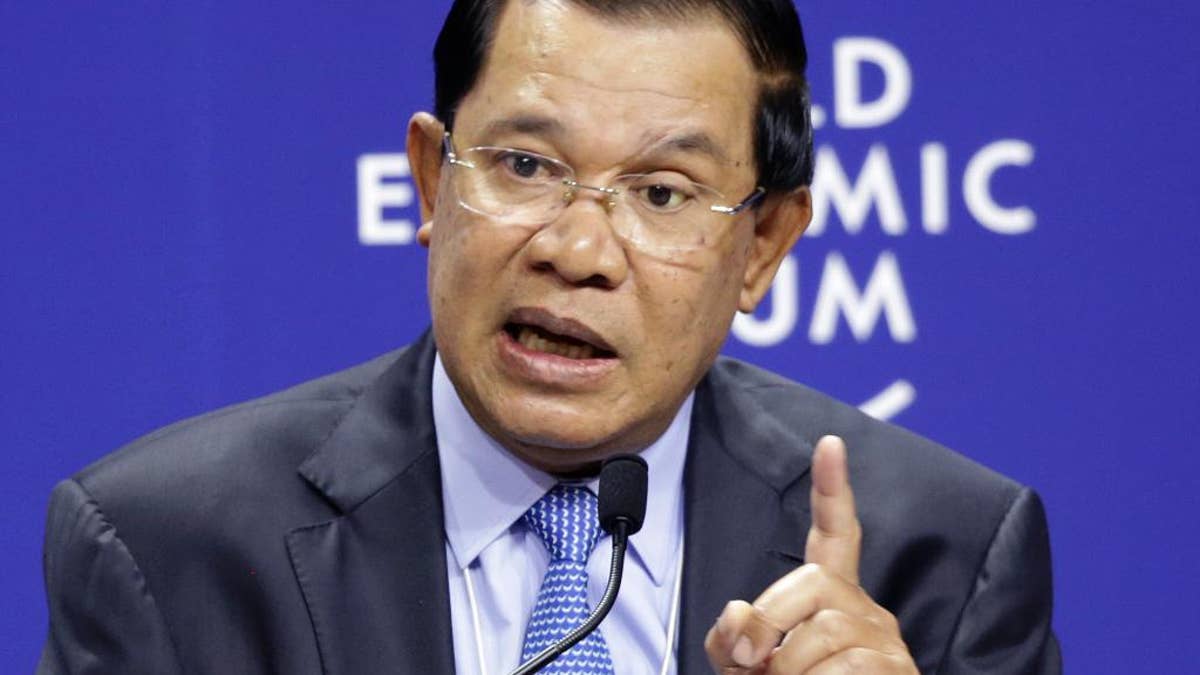 PHNOM PENH, Cambodia – Cambodian police have charged an opposition lawmaker who has been a strong critic of the government's handling of demarcating the border with neighboring Vietnam, reviving a campaign of pressure Prime Minister Hun Sen launched last year against his foes and critics.
Um Sam An was arrested Monday and charged Tuesday, apparently in connection with his remarks last year on the border issue. Journalists were not allowed into the court.
He was charged with incitement to commit a criminal act and inciting prejudice against another country and faces up to five years in prison if convicted, said his defense lawyer Sam Sokong. The charges carry penalties of up to two years in prison and three years, respectively.
One of his colleagues in the Cambodia National Rescue Party, Sen. Hong Sok Hour, is facing trial on several charges after making similar criticisms last year implying that the government failed to counter land encroachment by Vietnam, Cambodia's traditional enemy.
Hun Sen has been in power for three decades. While Cambodia is formally democratic, his government is authoritarian and known for intimidating opponents.
Last year, he put an end to an uneasy detente with the opposition party, with which he had reached a political truce in 2014 to end a boycott of parliament. The opposition mounted a surprisingly strong challenge against Hun Sen's Cambodian People's Party in the 2013 general election, which it accused the government of stealing.
The opposition has faced physical and legal intimidation, and politically motivated legal actions against charismatic opposition leader Sam Rainsy have convinced him to stay abroad.
The opposition for its part had sought to capitalize on its election gains by hitting Hun Sen on the sensitive issue of relations with Vietnam, with some of its lawmakers charging that Cambodia was losing land to its neighbor. Hong Sok Hour was arrested last August after Hun Sen accused him of treason for an online posting, which included the purported text of a 1979 treaty with Vietnam that declared that their mutual border would be dissolved.
Hun Sen — who was foreign minister at the time in a government installed by a Vietnamese occupation force that invaded Cambodia to oust the murderous Khmer Rouge regime — insisted the treaty was forged. Hong Sok Hour apparently had reposted a bad translation of a document he found on the internet, and was indicted on three charges including falsifying public documents, using fake documents and inciting chaos. The charges carry maximum sentences of 10 years, 5 years and 2 years, respectively.
Um Sam An, who pursued the same issue, was arrested in the northeastern city of Siem Reap shortly after midnight Sunday. He had just returned from a trip to the United States.
His Cambodia National Rescue Party decried his arrest, saying it breached his immunity as a lawmaker. The government rejects such claims, saying such arrests are allowable became the lawmakers have been caught in the act of committing a crime.