British Soldiers Reportedly Captured by Libyan Rebels During Secret Mission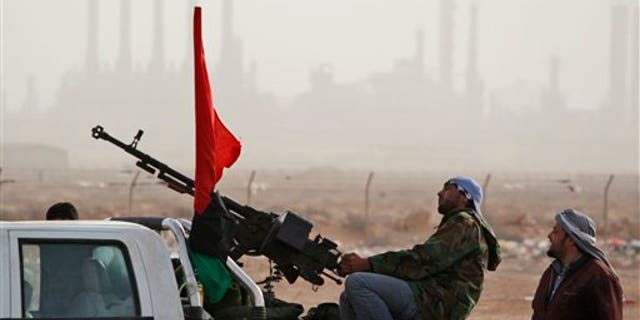 Up to eight British soldiers are being held by rebel forces in Libya after a secret mission to put British diplomats in touch with opponents of Libyan leader Muammar al-Qaddafi, according to the London Times.
The soldiers were captured Saturday as they escorted a junior diplomat through rebel-held territory in eastern Libya, according to the paper.
Britain's Defense Secretary says a small British diplomatic team is in eastern Libya to try to talk to rebels there.
This comes after Qaddafi loyalists swept into the opposition-held city closest to Tripoli, tightening security around the regime-held capital. To the east, rebel forces captured a key oil port as the country veered toward civil war.
Rebels said government forces had moved in to Zawiya, west of the capital, with tanks and dozens of people had been injured, but they vowed to keep up the fight. One rebel said the hospital was under control of pro-Qaddafi forces so the injured were being taken to a makeshift clinic set up in a mosque or to private homes for treatment.
"The number of people killed is so big. The number of the wounded is so big. The number of tanks that entered the city is big," he said, although he couldn't provide a specific casualty toll.
Opposition forces in the east, meanwhile, advanced west in a push toward Qaddafi's hometown of Sirte, a day after the port city of Ras Lanouf fell to the rebellion.
The contrasting fortunes of the two warring sides suggest that the conflict in Libya could last for weeks and maybe months, with neither side mustering enough military power to decisively defeat the other. The government is fighting fiercely to maintain its hold in Tripoli and surrounding areas and the rebels are pushing their front westward from their eastern stronghold.
Qaddafi, who has led the country virtually unchecked for four decades, has unleashed a violent crackdown against those seeking his ouster, drawing international condemnation and sanctions.
Hundreds have been killed, perhaps more, putting pressure on the international community to do more to stop the crackdown on protests that began on Feb. 15, inspired by successful uprisings in Egypt and Tunisia, its neighbors to the east and west respectively.
President Barack Obama has insisted that Qaddafi must leave and said his administration was considering a full range of options, including the imposition of a "no-fly" zone over Libya.
So far, Qaddafi has had little success in taking back territory, with the entire eastern half of the country and some cities near the capital under rebel control. But the opposition forces have had limited success in marching on pro-Qaddafi areas, leading to a standoff that could last for weeks and maybe months, with neither side mustering enough military power to decisively defeat the other.
Saturday's assault on Zawiya, a city of some 200,000 people just 30 miles west of Tripoli, began with a surprise dawn attack by pro-Qaddafi forces firing mortar shells and machine guns.
Witnesses who spoke to The Associated Press by telephone with the rattle of gunfire and explosions in the background said the shelling damaged government buildings and homes. The fighting sparked several fires, sending a cloud of heavy black smoke over the city, and witnesses said snipers were shooting at anybody on the streets, including residents who ventured onto balconies.
Initially, the rebels retreated to positions deeper in the city before they launched a counteroffensive in which they regained some of the lost territory, according to three residents and activists, who spoke on condition of anonymity for fear of reprisals.
By midafternoon, the rebels had reoccupied central Martyrs' Square while the pro-regime forces regrouped on the city's fringes, sealing off the city's entry and exit routes, the witnesses said.
"We will fight them on the streets and will never give up so long as Qaddafi is still in power," said one of the rebels, who also declined to be identified for the same reason.
Pro-Qaddafi forces on foot and firing artillery, mortars and other heavy weapons launched a new attack on Zawiya in late afternoon from the south and west, two other witnesses said by telephone.
The government claimed that "99 percent" of Zawiya was under its control.
"The situation in Zawiya is quiet and peaceful right now," deputy Foreign Minister Khaled Qaid told reporters Saturday in Tripoli. "We hope by tomorrow morning life will be back to normal."
The anti-Qaddafi rebels fared better elsewhere, capturing the key oil port of Ras Lanouf on Friday night, their first military victory in a potentially long and arduous march from the east of the country to Tripoli.
Witnesses said Ras Lanouf, about 90 miles east of Sirte, fell to rebel hands on Friday night after a fierce battle with pro-regime forces who later fled.
An Associated Press reporter who arrived in Ras Lanouf Saturday morning saw Libya's red, black and green pre-Qaddafi monarchy flag, which has been adopted by the rebels, hoisted over the town's oil facilities.
One of the rebels, Ahmed al-Zawi, said the battle was won after Ras Lanouf residents joined the rebels.
Al-Zawi, who participated in the fighting, said 12 rebels were killed in the fighting, in which rocket-propelled grenades and anti-aircraft guns were used.
Officials at a hospital in the nearby city of Ajdabiya, however, said only five rebels were killed and 31 wounded in the attack. The discrepancy in the figures could not immediately be explained.
"They just follow orders. After a little bit of fighting, they run away," said another rebel at Ras Lanouf, Borawi Saleh, an 11-year veteran of the army who is now an oil company employee.
A witness in Ajdabiya said rebels had begun their march toward Sirte, advancing 50 miles to the town of Nawfaliyah. The witness said he was going to join them and expected fierce fighting with pro-Qaddafi forces trying to stop them from going farther.
Also Saturday, a Libyan jet fighter has crashed near Ras Lanouf, witnesses said, displaying pictures showing the pilot's body and twisted wreckage from the plane. The cause of Saturday's crash couldn't immediately be determined.
Pro-Qaddafi forces have launched a number of airstrikes against rebel targets as they seek to put down the 19-day-old rebellion.
Farther east, a large arms and ammunition depot outside Benghazi, Libya's second-largest city, blew up Friday in a massive explosion that completely destroyed an area three times the size of a soccer field.
Ambulance drivers told AP Television News that at least 26 people had been killed in the blast, which flattened entire buildings, cars and trees. It also deprived the rebels of arms and ammunition needed to fight their way westward toward Sirte on the Mediterranean coast.
It was not immediately clear how the depot blew up, but suspicion immediately fell on Qaddafi agents.
The Associated Press contributed to this report.