British PM Theresa May accuses EU officials of trying to meddle in UK elections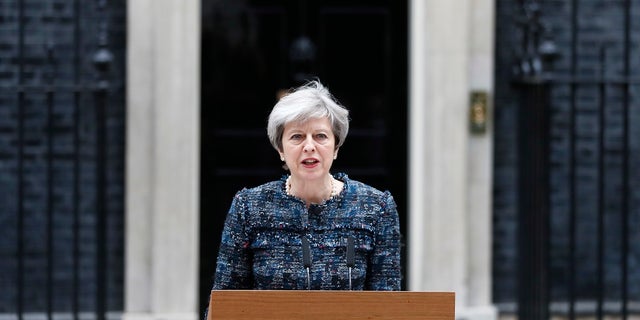 British Prime Minister Theresa May on Wednesday accused European Union officials of trying to influence the outcome of United Kingdom's general election through veiled "threats."
"The events of the last few days have shown that whatever our wishes and however reasonable the positions of Europe's other leaders, there are some in Brussels who do not want these talks to succeed, who do not want Britain to prosper," May said after a meeting with Queen Elizabeth II.
THE EU'S BREXIT NEGOTIATING PLAN, AT A GLANCE
The prime minister spoke outside of 10 Downing Street, marking the dissolution of Parliament and officially kicking off the election campaign.
May said the European Union's negotiating stance had hardened and some European officials had made "threats" against Britain.
UK BREXIT CHIEF REJECTS 100 BILLION-EURO BREXIT BILL
"All of these acts have been deliberately timed to affect the result of the general election that will take place on June 8," May said.
She also accused the European press for "misrepresenting" Britain's negotiation position, Sky News reported.
May insisted a working Brexit deal will be the key to Britain and EU's future success.
"This Brexit negotiation is central to everything," May said, adding that whoever won the election would face the "overriding task to get the best possible deal for this United Kingdom."
"If we don't get the negotiation right, your economic security and prosperity will be put at risk and the opportunities you seek for your families will simply not happen," the prime minister said.
On Tuesday, May made a similar firm stance, vowing to be a "bloody difficult woman" in talks with the bloc, after EU officials accused the U.K. of failing to grasp the complexity of the task ahead.
European Parliament Brexit coordinator Guy Verhofstadt, a master of the pointed political tweet, posted: "Any Brexit deal requires a strong & stable understanding of the complex issues involved. The clock is ticking — it's time to get real."
Formal Brexit negotiations won't start until after the U.K. election next month.
The Associated Press contributed to this report.