British model Chloe Ayling's lawyer slams claims she was in on kidnapping, but acknowledges 'doubts'
The lawyer for a British model allegedly abducted by "Black Death" kidnappers who intended to sell her to a buyer in the Middle East, hit back Monday over supposed holes in the 20-year-old beauty's story -- but acknowledged the woman left police with "understandable doubts."
Chloe Ayling said she was lured to Italy with the promise of a photo shoot, then drugged, stuffed into a suitcase, transported to an isolated farmhouse and held, at times in handcuffs, for almost a week.
The model told police the "terrifying experience" ended when her captor, who had threatened to hold her for ransom or advertise her as a sex slave on the criminal "dark web," decided instead to drop her off at the British consulate in Milan. Italian police have arrested a suspect in the bizarre series of events: a 30-year-old Polish man who claimed to be a paid killer.
Since the story first broke, it has emerged that Ayling went shopping for groceries and shoes with her captor, raising questions about the degree of coercion she was under, The Guardian reported.
In her deposition to police obtained Tuesday by the Associated Press, Ayling broke down in tears when confronted by investigators with a witness who said she had gone to buy shoes with the alleged kidnapper.
The 20-year-old model initially said she was held at a remote farmhouse for six days without ever leaving, but on the second day of questioning, she was confronted with witness testimony that said she and the main suspect had bought shoes for her the day before her release.
Ayling told investigators that she couldn't give a "reasonable explanation" about why she had omitted the shoe shopping, but said she considered the alleged kidnapper to be her best chance at freedom, according to the deposition obtained by the AP.
Her lawyer acknowledged Monday that aspects of the case seem bizarre. Francesco Pesce told the AP that investigators initially had "more than understandable doubts" about the model's story.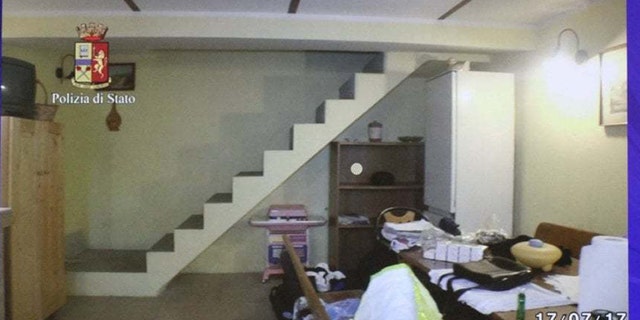 BRITISH MODEL SPEAKS OUT AFTER KIDNAPPING -- ALLEGEDLY BY MAN WHO WANTED TO AUCTION HER ON THE WEB
In a separate interview with the Guardian, Pesce said Ayling was scared to offer any resistance to her abductor's wishes, fearing there were other members of the gang who may have come after her.
"There were legitimate doubts [about her story] at the start, which were surpassed," Pesce told the Guardian. "What Chloe told police during 10 hours, it wasn't easy on her. If the police were convinced [of the story] after that, then I am convinced. What also would be his [the abductor's] motive [to collaborate]? Twenty years in jail?"
Pesce said the model initially had her wrists and ankles tied, but was later unbound and taken shopping. The lawyer added she had repeated her story multiple times, to police and before a judge.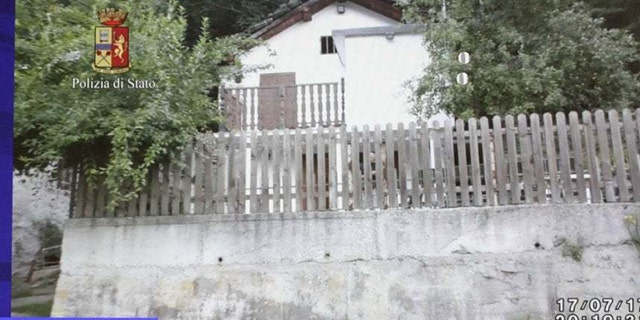 "I heard people doubting her and implying that she was somehow involved in this case, that she was somehow involved in this because it was too easy an escape and that I really can't believe, that people think that about Chole Ayling," he told BBC Radio 4's Today. "She was subjected to a tremendous ordeal and she suffered so much."
Pesce described suggestions that Ayling may have been somehow in on the kidnap as "evil."
Pesce, Ayling's agent Phil Green, and Milan police have all given broadly the same account of the sensational events, that the model was to be sold for sex in the Middle East, Sky News reported.
The model — whose nascent career includes topless shoots for British tabloid newspapers — went to Milan on July 11 for a photo shoot at what her agent, Phil Green, said was "a recognized studio in the city center."
BRIT MODEL ALMOST SOLD ONLINE AS SEX SLAVE RENEWS CONGRESS' PUSH TO TAKE ON INTERNET GIANTS
When she got there, her lawyer said, a man grabbed her by the neck while another injected her with a dose of the anesthetic Ketamine that was "strong enough to knock her to the ground."
"Then she was stuffed in a black sports bag, like she was an object, and then transported over winding, unpaved roads for more than two hours...bound hand and foot and with tape across her mouth," Pesce said.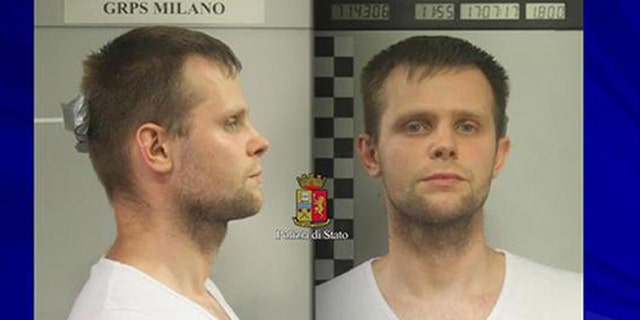 Milan police said Ayling was taken to a rural house near Turin, in northern Italy, where she was kept handcuffed to a wooden dresser.
They said the suspect in custody, Lukasz Pawel Herba, advertised her "sale" online, while at the same time demanding $300,000 ransom from her agent. Authorities said they have no evidence a ransom was paid.
Then, on July 17, Ayling was dropped off at the British consulate in Milan. The next day, police arrested Herba, a Polish citizen with British residency.
Milan police officer Lorenzo Bucossi said Herba described himself as a "paid killer" for a mercenary organization. Others have suggested he is a fantasist.
Herba told investigators he was drawn into the kidnap scheme unwittingly and did it to raise money to treat his leukemia, according to a a police deposition obtained by the AP. Herba said he was hired by a group of Romanians to rent properties around Europe to store garments they were selling, which paid 500,000 pounds ($650,000).
Herba said he later met the model in Paris where he posed as a photographer and she had come for a job, but when he discovered the Romanians intended to kidnap her he backed out. He said the Romanians later kidnapped her independently, and that he came to aid her after seeing her on a deep-web auction site.
According to Italian media reports, Ayling said she was released when her captor discovered she had a small child. He said abducting a mother was against the "rules" of his shadowy criminal organization.
Britain's National Crime Agency said British police were working with Italian authorities and searched a house in central England linked to Herba.
On Sunday — almost three weeks after she says she was released — Ayling returned to Britain.
Green said Italian police held Ayling's passport and wouldn't let her leave the country until she gave evidence at a pre-trial hearing and visited the crime scene with detectives last week.
"I've been through a terrifying experience," Ayling told reporters on the doorstep of her home in south London on Sunday. "I've feared for my life, second by second, minute by minute, hour by hour."
This has not been the model's first brush with horrifying incident. Earlier this year, Ayling was reportedly caught up in a terror attack on the famed Champs-Elysee's in Paris where a police officer was killed.
Ayling had just arrived in the French capital and was walking on the street nearby when the incident unfolded, her agent told The Daily Star. The paper reported that model was told to get off the street and went back to her hotel to call her mother to tell her she was safe.
"She did not know exactly what had happened, until turning on the internet on her phone – there she saw the news about the suspected terrorist attack in the center of Paris," Green told the Daily Star.
The Associated Press contributed to this report.