British finance minister says Beijing agrees to make London hub for handling China's yuan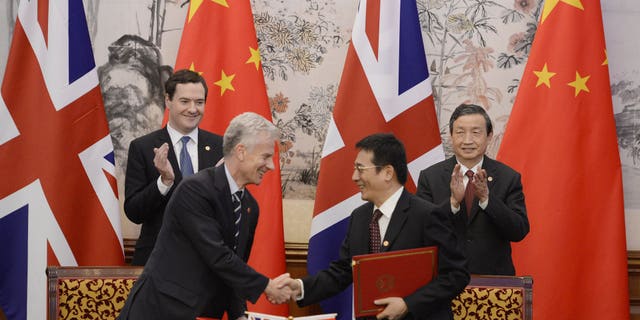 BEIJING – Beijing agreed Tuesday to make London a center for handling investment denominated in China's tightly controlled currency as the two sides set aside a spat over the Dalai Lama to expand financial ties.
The announcement came in the middle of a five-day British trade mission to China led by finance minister George Osborne. On Monday, Britain unveiled simpler visa rules aimed at luring Chinese tourists.
Osborne's trip marks a return to normal exchanges after Beijing derailed a planned visit by Prime Minister David Cameron in April in retaliation for the British leader having met the Dalai Lama, the exiled Tibetan spiritual leader.
Investors in London will be allowed to apply for licenses to invest yuan directly into China, Osborne announced. He said the Chinese central bank set an initial quota for London of 80 billion yuan ($12.7 billion).
Tuesday's announcement put London ahead in the race by global financial centers to gain a share of yuan-denominated business as Beijing gradually expands use of its currency for trade and investment.
Hong Kong was the first financial center outside mainland China where trading of yuan was authorized. London banks have traded yuan since early last year.
"Now London is a major global offshore center for the trading of the Chinese currency," Osborne told reporters.
Britain and China signed an agreement in June to have their central banks swap 200 billion yuan for 20 billion pounds.
The European Central Bank and Beijing announced a similar agreement this month to swap 350 billion yuan for 45 billion euros. That suggested Frankfurt also might be in to become a center for business denominated in yuan.
Also Tuesday, Osborne said China's state-owned banks will be allowed to expand their operations in Britain by setting up wholesale branches.
Cameron was forced to abandon his April trip after China said he would not be able to meet senior officials. Some lower-level meetings also were put on hold.
British diplomats say Cameron's visit is being rescheduled but a date has yet to be announced.