Brazil President Not Commenting On Edward Snowden's Request For Asylum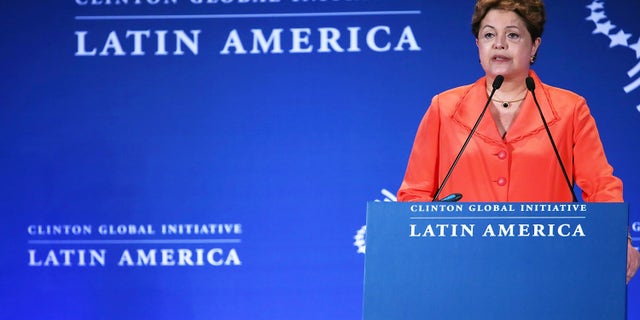 Brazilian President Dilma Rousseff said Wednesday she would not comment on the letter written by National Security Agency leaker Edward Snowden in which he said he was willing to help Brazil investigate NSA spying on its soil but could only do so if granted political asylum.
At a press conference in Brasilia, Rousseff said the government had not received any formal request "and so I give myself the right to not manifest myself on something that was not sent."
"I received nothing, I was asked nothing and it is not my mission to interpret anyone's letters," she said.
Earlier, the president of Brazil's Senate Foreign Relations and Defense Committee urged his country to grant political asylum to Snowden.
An aide to Sen. Ricardo Ferraco said the senator wants to meet with Foreign Minister Luiz Alberto Figueiredo to "request that Snowden be given asylum." The aide did not give further details and declined to be identified due to a lack of authorization to speak to the press.
The Folha de S. Paulo newspaper on Wednesday quoted Ferraco as saying "Brazil has an opportunity that it cannot afford to throw away."
Ferraco is a member of the PMDB party, which is allied with the Rousseff's Worker's Party. However, according to David Fleischer, a political scientist at the University of Brasilia , he does not have much sway in the government.
On Tuesday, the newspaper published Snowden's "open letter to the people of Brazil" in which Snowden wrote that he's willing to help Brazil investigate NSA spying on its soil but could only do so if granted political asylum because the U.S. "government will continue to interfere with my ability to speak."
Revelations about the NSA's spy programs were first published in the Guardian and The Washington Post newspapers in June, based on some of the thousands of documents Snowden handed over to Barton Gellman of the Post, Brazil-based American journalist Glenn Greenwald and Laura Poitras, a U.S. filmmaker.
The documents revealed Brazil is the top NSA target in Latin America, with spying that has included the monitoring of Rousseff's cellphone and hacking into the internal network of state-run oil company Petrobras.
The revelations enraged Rousseff, who canceled an official visit to Washington slated for October that was to include a state dinner. She's also pushing the United Nations to do more to protect citizens from spying.
An official at Brazil's Foreign Ministry said Wednesday that in early July, Snowden had faxed a political asylum request to the Brazilian Embassy in Moscow, where he lives on a temporary one-year visa.
"But we did not respond to that fax because it was not signed and there was no way to check its authenticity," the official said, adding that such a request must be formally submitted to a Brazilian authority. The official asked not to be identified due to lack of authorization to discuss the case.
If Snowden does submit a formal request, Rousseff herself will make the final decision, the official said.
Another official at the presidential palace said it was "highly unlikely" Brazil would grant him asylum. The official did not have authorization to talk to the press and declined to be identified.
Several members of Brazil's Congress have called for Snowden to receive asylum so he could assist lawmakers' investigation into NSA activity in Brazil.
Sen. Vanessa Grazziotin, who heads the Senate panel investigating U.S. espionage in Brazil, said Snowden's letter shows that "he wants to cooperate, but without imposing any conditions."
"His help would be more than helpful, but it all must be done in such a way so as not to jeopardize our relationship with the United States," she said in a phone interview. "I personally defend the idea that Brazil should grant Snowden political asylum for humanitarian reasons only, not in exchange for information."
Follow us on twitter.com/foxnewslatino
Like us at facebook.com/foxnewslatino