Brazil environment minister calls on rich nations to commit to reducing carbon emissions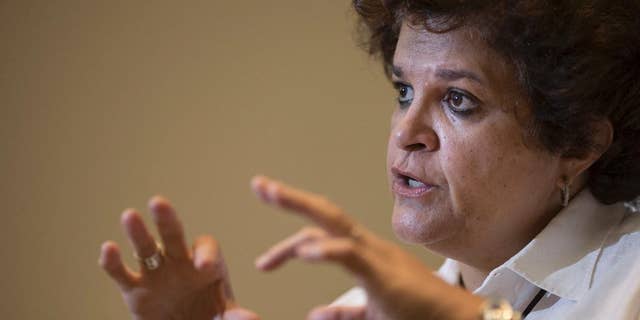 RIO DE JANEIRO – Brazil's environment minister said Wednesday that her nation will be a protagonist at an upcoming climate change conference in Peru and will hold developed nations accountable for strong commitments to reduce carbon emissions.
Minister Izabella Teixeira said she wants developed nations like the United States to detail their plans to reduce carbon emissions at the next round of global negotiations set to take place next month in Lima, Peru.
Teixeira spoke to The Associated Press on the sidelines of a Climate Reality Leadership Corps Training session in Rio de Janeiro, led by former U.S. Vice President Al Gore. She said the Peru summit is essential for creating the roadmap for a global agreement to reduce emissions that will be negotiated at a Paris climate summit next year.
"We want (developed) nations to make promises for strategic reductions of emissions — that is what we're looking for in Lima," Teixeira said. "What's their plan?"
Reaching a global agreement on the reduction of carbon emissions after two decades of negotiations has long pitted the developed against the developing world.
Rich nations call on countries like China and other big developing countries to set ambitious targets. But developing nations say industrialized countries have a historical responsibility to lead the fight against global warming and to help poorer nations cope with its impact, since they long ago destroyed their own forests and are among the biggest emitters of carbon.
In 2009, Brazil said it would voluntarily reduce its carbon emissions by 39 percent by 2020 — a target the government has said it should meet four years early.
Brazil has made strides by sharply reducing deforestation of the Amazon rainforest overall since 2008. About 75 percent of Brazil's carbon emissions come from destruction of the Amazon, as vegetation burns and felled trees rot. The forest is also seen by many as the biggest natural defense against global warming, acting as a giant absorber of carbon dioxide.
Teixeira said that about 47 percent of Brazil's primary energy supply comes from renewable sources and that up to 75 percent of the electricity the nation generates is renewable, mostly hydroelectric.
The U.S. government, by comparison, says 10 percent of its primary energy supply and 13 percent of its electricity comes from renewable resources.
"I want to know what the OECD nations will do to duplicate our efforts," Teixeira said, referring to the world's richest 20 nations. "How will they come close to having nearly 50 percent of their entire energy matrix coming from renewable energy?"
___
Brad Brooks on Twitter: www.twitter.com/bradleybrooks