British PM Boris Johnson dealt major blow as opponents seize parliamentary agenda control
British Prime Minister Boris Johnson suffered a major setback Tuesday when lawmakers opposed to a no-deal Brexit voted to take control of the parliamentary agenda, prompting him to call for a new general election.
The defeat could set the stage for opposing members of parliaments, known as MPs, to pass a bill to prevent Johnson from taking the United Kingdom out of the European Union before the Oct. 31 deadline without a withdrawal agreement in place.
The House of Commons voted 328 to 301 to take control of the agenda, meaning rebel lawmakers could bring a bill forward Wednesday to delay the Brexit date. Some 21 Conservative Party members supported the measure, including a number of ex-cabinet ministers.
NIGEL FARAGE: BREXIT FOLLOWED BY BOOSTED UK PROSPERITY COULD BE THE END OF THE EU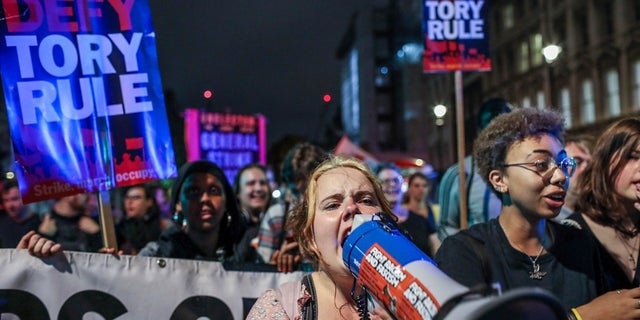 In a televised address, Johnson said Tuesday he would not accept a delay to Brexit.
"Enough is enough," Johnson said. "The country wants this done and they want the referendum respected. We are negotiating a deal and I am confident of getting a deal."
A measure for a new election would need a two-thirds majority in Parliament to set a new vote.
On Monday, Labour Party leader Jeremy Corbyn said he welcomed a general election, which would be the third in four years. He has accused Johnson of trying at all costs to remove Britain from the EU without a deal.
"He isn't winning friends in Europe. He's losing friends at home. His is a government with no mandate, no morals and, as of today, no majority," Corbyn said Tuesday.
NIGEL FARAGE: BREXIT FOLLOWED BY BOOSTED UK PROSPERITY COULD BE THE END OF THE EU
He said he wanted legislation preventing a no-deal Brexit before elections. Johnson said such a bill would enable the EU to dictate negotiations and bring "more dither, more delay, more confusion."
By taking control of parliamentary business, rebel lawmakers will be able to introduce a cross-party bill to ask for a Brexit delay until Jan. 31, 2020, the BBC reported.
In addition to the losing control of the parliamentary agenda, Johnson also lost his working majority when Conservative Party lawmaker Phillip Lee defected to the rival Liberal Democrats.
Johnson, who became prime minister in July, has tried to crack down on members of his Conservative Party who opposed his Brexit plans, warning they would be expelled from the party if they supported parliamentary efforts to block or delay the withdrawal.
CLICK HERE FOR THE FOX NEWS APP
It was not clear if he would try to expel the 21 party members who joined the opposition to defeat the government.
A no-deal Brexit would sever decades of trade with Europe's single market. Leaving without an agreement could result in disruptions in commerce, according to economists.
Fox News' Amy Kellogg in London and The Associated Press contributed to this report.