Beijing launches car quota to counter gridlock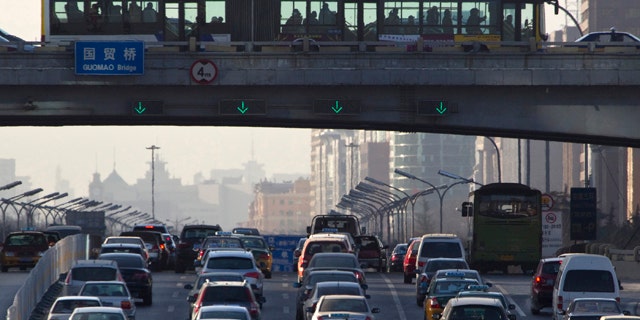 BEIJING – For thousands of hopeful commuters in China's capital, 2011 started with a click, not a bang.
Residents hoping to snap up Beijing car license plate numbers under a new quota system aimed at easing paralyzing traffic logged onto a website that launched in the first moments of the new year. Within 10 minutes, 6,000 people had applied for new plate numbers, the Beijing Daily newspaper reported.
By 11 a.m., more than 36,000 applications had been submitted online, the official Xinhua News Agency said. The applicants are competing for the first batch of 20,000 plates, which are to be awarded by lottery on Jan. 25. Every month a new batch of plates will become available.
The new system aims to reduce the number of cars in the notoriously gridlocked capital. The city will only allow 240,000 new car registrations in 2011 — two-thirds less than last year — and is parceling them out via the monthly online lottery.
The city now has 4.76 million vehicles, up from 2.6 million in 2005.
A global survey conducted last year by IBM said Beijing is tied with Mexico City for the world's worst commute. Worries are growing that Beijing is choking itself for future growth as it gets more difficult to move people and goods around the city.
Nearly 70 percent of Beijing drivers told the IBM survey they had run into traffic so bad they've turned around and gone home.
Some netizens have joked that the new system won't bring much relief and have mocked the web address, www.bjhjyd.com, which stands for "Beijing Huanjie Yongdu," or "Beijing Eases Congestion." Some say the same letters could also be short for "Beijing Haiyao Yongdu" or "Beijing Will Still Be Gridlocked."