Bare-chested Putin takes dip in icy lake for Epiphany
Russian President Vladimir Putin continued his tradition of stripping down to the waist in public Friday when he took a dip in the freezing waters of an icy lake to celebrate the Orthodox Christian ritual marking the Epiphany.
State television showed the 65-year-old Russian leader marking a hole cut into the ice of Frozen Lake Seliger, about 250 miles north of Moscow.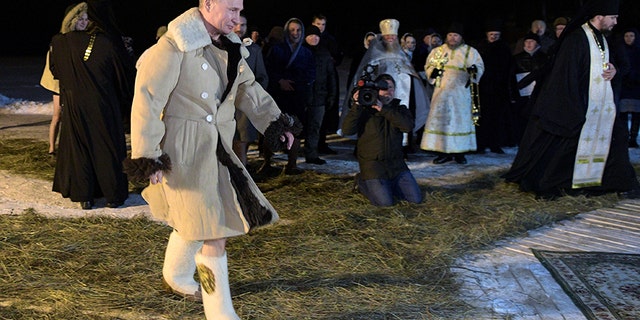 After taking off a sheepskin coat and felt boots, Putin walked down wooden steps leading into the water, crossed himself and dipped his head under.
According to reports, air temperatures at the time were around 21 degrees.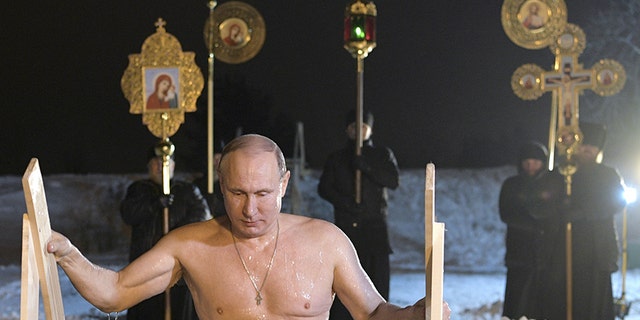 Putin's spokesman, Dmitry Peskov, said the president had dipped in icy waters on the Epiphany before, but Thursday marked the first time he publicly did so.
In Orthodox tradition, believers immerse themselves in rivers and lakes to commemorate the baptism of Jesus in the River Jordan. Authorities set up bathing sites for believers all over Russia, including some areas in Siberia where temperatures dipped below -22 F.
Putin has had a track record of stripped down to the waist in public.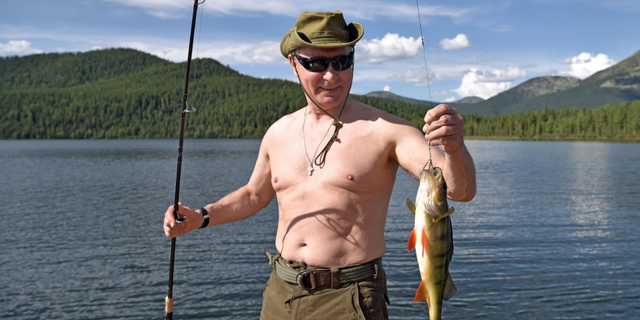 In August last year, he was photographed with his shirt off while on a spearfishing vacation in the southern mountain lake in Siberia. In August 2009, a bare-chested Putin was pictures riding a horse during a Siberian holiday.