Barcelona terror: Manhunt for suspected van driver expands to France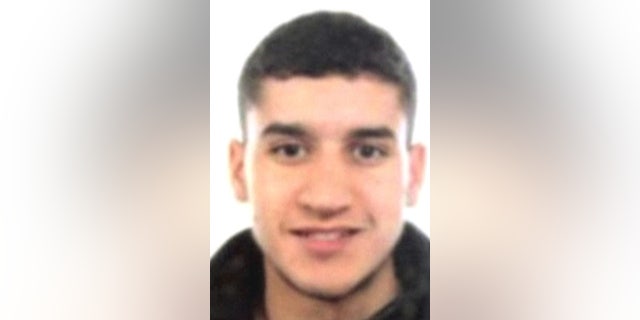 The manhunt for Europe's most wanted terror suspect has expanded, with Spanish police searching along the French border on Sunday for the driver of the van that plowed into a crowd of people on Barcelona's renowned Las Ramblas promenade earlier this week.
Police said in a news conference that the search for Moroccan-born Younes Abouyaaquoub, 22, has continued in Catalonia, and has expanded to the neighboring French border, Reuters reported.
INSIDE THE FILTHY APARTMENT OF BARCELONA TERROR ATTACK SUSPECT
Abouyaaquoub, the suspected driver of the van used in Thursday's terrorist attack that killed 13 people and injured 120 others, is believed to be the only member of the 12-person terror cell who may have crossed the border into France.
"We don't have any specific information on this but it cannot be ruled out," Catalan police chief Josep Lluis Trapero said at a news conference when asked if the suspect possibly crossed into France.
Spanish media have reported that authorities believe Abouyaaqoub was the one who drove a van through a crowded area of tourists and locals in Barcelona, but Trapero said he couldn't confirm who the driver of the vehicle was.
A police official confirmed to Fox News that three vans found in relation to the Spanish attacks were rented using a credit card under Abouyaaquoub's name.
Police have identified 12 people as part of the extremist cell which coordinated the two vehicle attacks in Barcelona and Cambrils. Other members of the cell have either been arrested, shot by police or killed in Catalonia, the site of a house explosion Wednesday night.
MISSING BOY CONFIRMED TO BE AMONG DEAD IN BARCELONA TERROR ATTACK, SPANISH AUTHORITIES SAY
The house in Catalonia, a city where police continue to hunt for Abouyaaqoub, was discovered to have stored more than 100 butane gas tanks, and other ingredients meant for explosives.
Those identified in the cell thus far grew up in Ripoll, a town in the Catalan foothills 62 miles from the French border. French police have carried out extra border checks on people entering the country from Spain.
The Islamic State terror network claimed responsibility for the Barcelona and Cambrils attacks.
The Associated Press contributed to this report.