Barcelona terror attack suspect freed by judge, three others ordered held
One of the four surviving suspects in last week's twin terror attacks in Spain was ordered released by a judge Tuesday.
National Court Judge Fernando Andreu said the evidence against Mohamed Aalla was "not solid enough."

However, Andreu did determine there was enough evidence to hold 21-year-old Mohamed Houli Chemlal and 28-year-old Driss Oukabir on preliminary charges of causing homicides and injuries of terrorist nature and of belonging to a terrorism organization.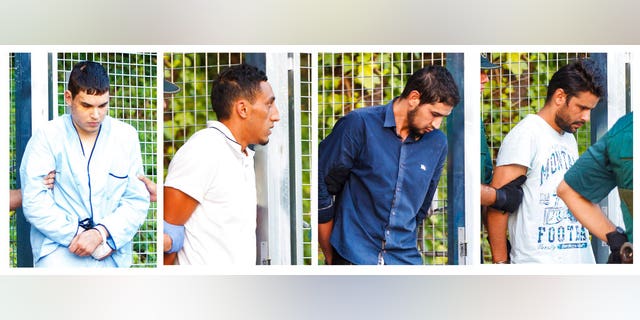 The fourth man, Sahl El Karib, was to remain in custody for at least 72 more hours while police inquiries continue.
Andreu issued his orders after listening to the men answer questions about the vehicular assaults in Barcelona and Cambrils that killed 15 people and injured more than 120 others.
Chemlal, the first to testify, confirmed media reports that a much larger attack had been planned in Barcelona, the capital of Spain's Catalonia region. He identified imam Abdelbaki Es Satty as the leader of the 12-man cell, and said Es Satty planned to carry out a suicide bombing at a monument in the city.
Es Satty preached in a mosque in the northeastern town of Ripoll, home to most of the 12 pointed by police as being possible members of the cell. He and another man blew themselves up Wednesday while preparing explosives in a house in the coastal town of Alcanar, south of Barcelona.
Chemlal testified Tuesday that he only survived because he was on the ground floor of the house washing dishes after dinner. Police later found in the house over 100 tanks of butane gas and materials to make TATP, an explosive frequently used in attacks by ISIS militants. The group has claimed responsibility for both attacks.
INSIDE THE FILTHY APARTMENT OF BARCELONA TERROR ATTACK SUSPECT
The Alcanar explosion forced the surviving members of the cell to change their plans and resort to vehicular attacks. Receipts described in the judge's order showed the men also made a last-minute run to buy knives and an ax just before the Cambrils attack early Friday.
Oukabir, the second suspect to testify, denied any involvement with the extremist cell despite his brother being one of the five radicals shot dead by police in Cambrils early Friday. He admitted he rented the vans used in the assaults, but said he thought they would be used for a house move.
Oukabir initially told police after the Barcelona attack that his younger brother had stolen his identification documents to rent the van used to create carnage on the famous Las Ramblas pedestrian boulevard. On Tuesday, he testified that he had told this initial story out of fear.
Aalla and El Karib flatly denied being part of the extremist cell. Aalla said an Audi A3 used in the Cambrils attack was registered under his name, but used by another sibling. Police say one of Aalla's younger brothers died in Cambrils and another one is believed to be the second casualty in the Alcanar house blast where the imam died.
El Karib, the owner of a cybercafe in Ripoll, told the judge on Tuesday that he was only trying to make a profit when he bought at least two plane tickets for two alleged members of the cell.

Earlier Tuesday, raided that cybercafe in Ripoll as well as a house in Vilafranca del Penedes, searching for more evidence.

ATTACK VICTIMS CAME FROM AROUND WORLD TO CELEBRATE BARCELONA
The lone fugitive from the cell — 22-year-old Younes Abouyaaqoub — was shot to death Monday west of Barcelona after a massive, dayslong manhunt. Police say he flashed what turned out to be a fake suicide belt at two officers who confronted him in a vineyard.
Police said they had "scientific evidence" that Abouyaaqoub drove the van that barreled through Barcelona's crowded Las Ramblas promenade and that he hijacked a car and fatally stabbed its driver while making his getaway.
Abouyaaqoub's brother and friends made up the rest of the 12-man extremist cell. Police said with Abouyaaqoub's death, the group's members were all dead or in custody.
Chemlal was born in Melilla, one of Spain's two North African coastal enclaves that have borders with Morocco. Spanish media say the other 11 suspects are all reportedly Moroccans who lived in Spain.
The Associated Press contributed to this report.