Baby Hope's Mother Says She's Been Waiting For Justice, Says She's 'In Pain'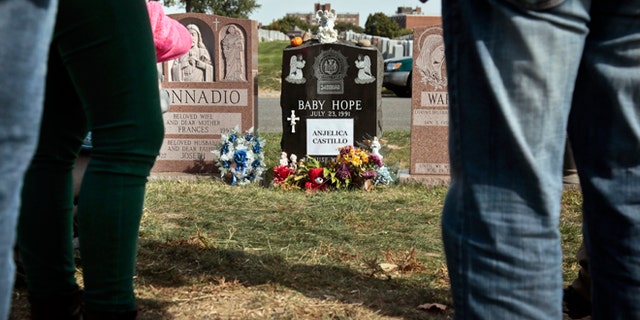 New York – Family members of the slain New York City girl known as Baby Hope are speaking out for the first time since the arrest of 52-year old Conrado Juarez, a relative who has been charged in the murder.
Police identified Baby Hope over the weekend as Anjelica Castillo. The 4-year-old was found stuffed in a cooler along a Manhattan highway in 1991.
Speaking to reporters through the closed door of her Queens apartment about the 22-year old murder, Anjelica's mother, Margarita, spoke out about the punishment she hopes that Juarez receives.
"You can't even describe a punishment," Castillo told the New York Daily News. "You won't understand the pain. We are just waiting for justice. We are not going to have peace."
Laurencita Ramirez – the sister of the deceased child - told the New York Post she first found out she had a sister who was killed when she was 11 years old. She says it wasn't until last week that she heard about the case.
Ramirez says her mother told her Anjelica would have looked just like her had she lived. The 27-year-old Ramirez has the same nose, eyes and mouth as a police sketch of Angelica.
She added that she had never met Juarez.
Over the weekend, New York police Assistant Chief Joseph Reznick went to visit the grave of Baby Hope, as he's often done in the past two decades.
"Her picture, and now this confession, I'm going to have in my mind for the rest of my life," Reznick said. "Not knowing what had happened, I imagined a sort of best-case scenario. But now that I heard the real story, I know it is one of the most disturbing things."
The girl's body, naked and bound, was found in a 32-quart blue cooler discovered by construction workers in 1991. She weighed just 20 pounds, half that of an average 4-year-old, Reznick said.
But no one reported her missing, and detectives had no leads.
"It became just intensely frustrating," said Giorgio. "The frustration stayed with a lot of us, which makes it more relieving now."
Affection grew for the girl they nicknamed "Baby Hope." Officers organized a funeral for her in 1993, and hundreds attended. They paid for her gravestone at the Bronx cemetery and visited annually.
Detectives made a publicity push this summer on the 22nd anniversary of the discovery of her body, canvassing the area, plastering posters, asking for anyone with information to come forward.
This time, it worked. A tip came in that led to the girl's mother, her sister and a birth certificate.
The methodical investigation pieced together evidence using officers across the department, the Real Time Crime Center technology hub, intelligence division, special victims unit, and the Manhattan district attorney's cold case unit, led by Melissa Mourges, who was assigned to the case when the body was found.
Filling in the child's family tree spanned two countries.
"There's no room for mistakes in a 1991 case," said Chief of Detectives Phil Pulaski. "You have to be careful you don't move too fast that you preclude evidence from coming forward. There is a lot of planning, and planning is work."
The evidence led them to Juarez, a 52-year-old cousin of the girl's father, Pulaski said.
He told police he took Anjelica into an empty bedroom at a family apartment and sexually assaulted her, then suffocated her with a pillow, authorities said. He and his sister, who has since died, folded up the body, bound it, wrapped it in cloth and put it inside the cooler, then told relatives they were headed to the beach, Reznick said.
Police and prosecutors are confident in the confession. But Juarez's lawyer questioned the legitimacy of admissions gleaned after more than 12 hours of interrogation.
"If this statement was made, under what circumstances was it made? ... There are questions that need to be answered," the attorney, Michael Croce, said Monday.
"I'm not, in any way, shape or form, trying to minimize this tragedy," he said, adding that he was trying to point out the uncertainties of the case, including the idea that family members may have known but said nothing.
The Associated Press contributed to this report.
Follow us on twitter.com/foxnewslatino
Like us at facebook.com/foxnewslatino