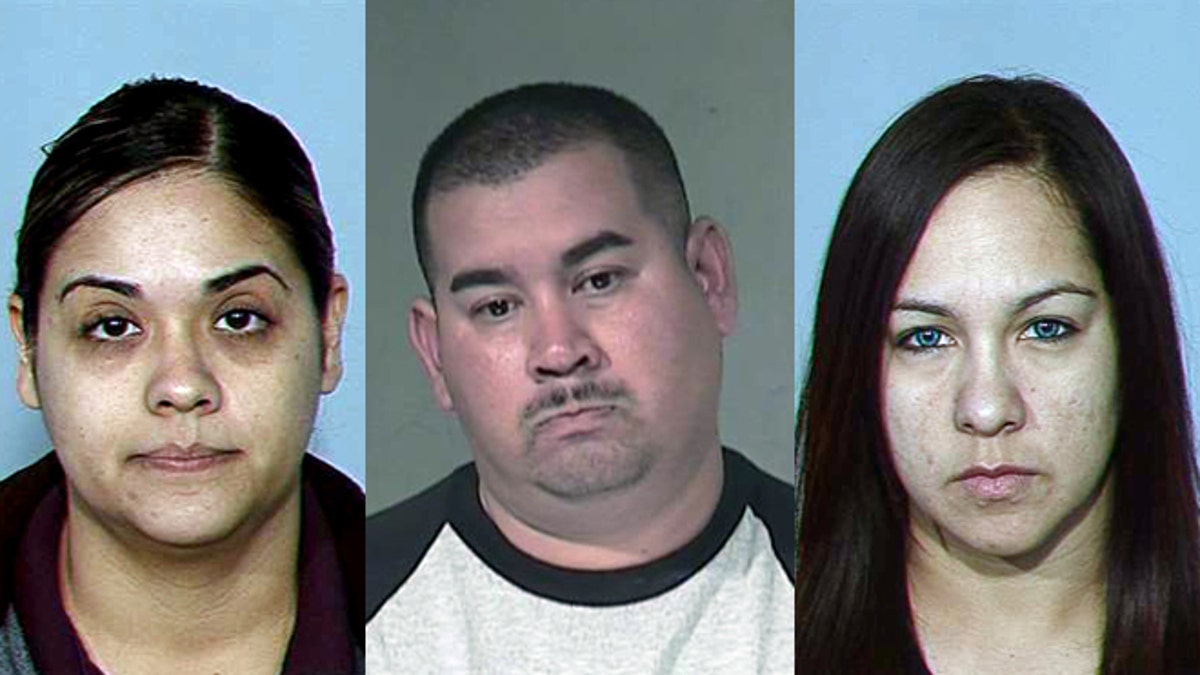 PHOENIX (AP) – The disappearance of a key wiretap document in an Arizona corruption case has led prosecutors to seek the dismissal of charges against three former sheriff's officers accused of helping a cartel-connected heroin smuggling ring.
The request to dismiss charges against the former employees of Maricopa County Sheriff Joe Arpaio's office came after it was recently discovered that a wiretap application that must be completed to get electronic surveillance was never actually filed. The discovery led defense attorneys to ask a judge to throw out all evidence arising from the wiretap.
Prosecutors, who have accepted blame for not filing the document with the court, asked a judge late Monday to throw out charges against the three ex-officers and three others, including the alleged ring's leader, who authorities say was working with a high-ranking Sinaloa drug cartel figure.
Prosecutors also are seeking to void the convictions of 11 others who have already pleaded guilty to drug charges in the case. Some have completed their punishments, while others are still serving prison sentences.
Jerry Cobb, a spokesman for the Maricopa County Attorney's office, which is prosecuting the case, said the dismissal being sought would leave open the possibility that charges could be refiled if independent evidence of the crimes surfaced. "That wiretap was so critical to the case," Cobb said.
Herman Alcantar, the attorney for one of the accused, former sheriff's Deputy Alfredo Aguirre Navarrette, said he doubted there was enough evidence to file charges again and win convictions.
The case has served as an embarrassment to Arpaio's office since the three employees were arrested in 2011.
The agency issued a statement Wednesday saying the investigation was solid and that sheriff's officials were disappointed with recent developments in the case.
The three are accused of helping the ring smuggle heroin from Mexico into metro Phoenix and launder its illegal proceeds through two companies. They pleaded not guilty to charges.
Navarrette, a one-time member of Arpaio's elite immigration squad, is accused of driving smuggling vehicles, laundering money and using a police database to pass information along to members of the drug ring.
He also was accused of assisting a separate immigrant smuggling group by operating a stash house and transporting immigrants in the country illegally from Arizona to California. Authorities say that Navarrette, while out on bail, was pulled over while driving a suspected immigrant smuggling vehicle. He has been jailed since.
The sheriff's office launched an internal investigation in 2010 after a confidential informant told police that Navarrette was seen snorting cocaine and bragging about his work for the drug ring while at a party.
Former jail officers Marcella Marie Hernandez and Sylvia Rios Najera were accused of helping launder the ring's drug proceeds. At the time of her arrest, Hernandez was pregnant with the alleged ring leader's child.
If a judge grants the dismissal request, all that would remain of the case would be insurance fraud and arson charges against Navarrette, who is accused of causing a fire to a car in 2010.
Like us on Facebook