Attacker who murdered Catholic priest under police supervision, wore monitoring bracelet
One of the two knife-wielding Islamist attackers who slit the throat of a Catholic priest during a morning Mass in northern France Tuesday was under judicial supervision after trying to travel to Syria twice under false names.
Paris Prosecutor Francois Molins told reporters that 19-year-old Adel Kermiche's bail conditions allowed his electronic monitoring bracelet to be deactivated for a few hours every morning, a period that corresponded with the attack in the town of Saint-Etienne-du-Rouvray.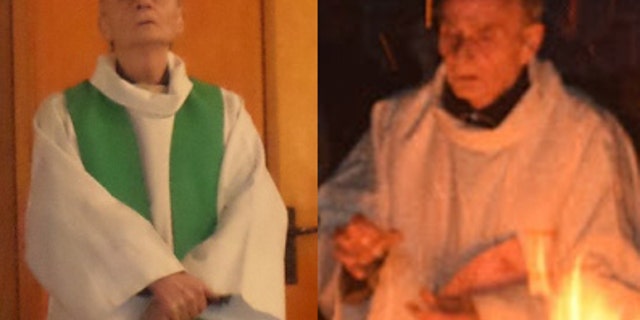 The revelations are expected to intensify criticism of President Francois Hollande's government with the French people already reeling from the Bastille Day truck attack in Nice, which killed 84 people.
"To attack a church, to kill a priest, is to profane the republic," Hollande said in nationally televised speech after speaking with Pope Francis, who condemned the killing in the strongest terms.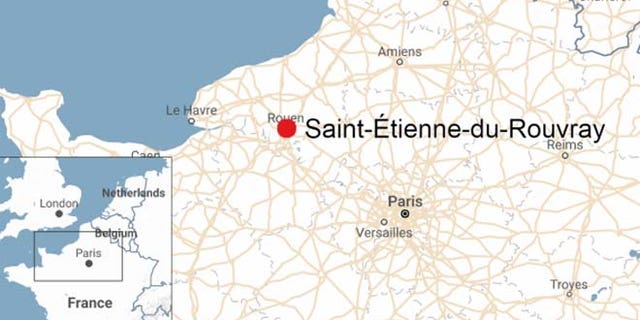 Kermiche and a second unidentified attacker stormed the church, forced priest Jacques Hamel to kneel before they killed him, and captured the bloody assault on film, according to a nun who escaped the assault.
"They forced him to his knees. He wanted to defend himself. And that's when the tragedy happened," said the nun, identified as Sister Danielle.
"They recorded themselves. They did a sort of sermon around the altar, in Arabic. It's a horror," she told BFM television. Molins said the other hostages were used as human shields to block police from entering.

Both attackers were shot dead by anti-terror police units as they ran outside the sanctuary shouting "Allahu Akbar!" One had three knives and a fake explosives belt, Molins said; the other carried a kitchen timer wrapped in aluminum foil and had fake explosives in his backpack.

ISIS' Amaq news agency said the France attack was carried out by two Islamic State "soldiers," Reuters reported.
Molins said Kermiche was arrested in Germany in March 2015 trying to join extremists in Syria using his brother's ID, and then was arrested in Turkey two months later using a cousin's ID.
Family friend Jonathan Sacarabany told the Associated Press that Kermiche's family alerted authorities to his radicalization in an effort to stop him going to Syria. A French law enforcment official told AP Kermiche, who grew up in the town, was required to check in with police once a day under the terms of his supervision.
"[ISIS] has declared war on us," Hollande said Tuesday. "We must fight this war by all means, while respecting the rule of law -- what makes us a democracy."
The cold-blooded murder of Hamel, who was ordained in 1958, stunned the community of Saint-Etienne-du-Rouvray, a working-class suburb of the medieval city of Rouen.

The town's mayor, Hubert Wulfranc, in tears, denounced the "barbarism" and, breaking down, pleaded, "Let us together be the last to cry."

"Everyone knew him very well," Claude-Albert Seguin, 68, said of Hamel. "He was very loved in the community and a kind man."
Rouen diocese official Philippe Maheut said the slain priest had been at the church for the past decade and "was always ready to help," said.

"His desire was to spread a message for which he consecrated his life," Mahut told The Associated Press. "And he certainly didn't think that consecrating his life would mean for him to die while celebrating Mass, which is a message of love."

While France is officially secular and church attendance is low, the country has deep Catholic roots. ISIS has urged followers to attack French churches and the group is believed to have planned at least one earlier church attack that was foiled when the assailant shot himself in the leg.
The church was reportedly on a "hit list" discovered at the residence of a would-be ISIS attacker in April 2015, The Sun reported. Abdel sid Ghlam was believed to be planning "imminent attacks" in France when investigators arrested him. Officials allegedly uncovered an arsenal of weapons and found that Ghlam was talking with someone in Syria who had ordered him to strike specific churches -- including the one targeted Tuesday.
The attackers entered through the back door of the church and took the priest, two nuns and two parishioners hostage during morning Mass, police said.
Three hostages were rescued in good condition. Another hostage originally listed in critical condition was expected to survive, Molins said.
One person, a minor, was arrested in the investigation. Molins said he is believed to be the 16-year-old younger brother of someone wanted by authorities for trying to go to Syria or Iraq in 2015.

Vatican Spokesperson Greg Burke told Fox News that Pope Francis was "shocked" especially because the attack "happened in a house of worship." He added the Pope was "…praying for the victims of the attack."
The cluster of towns near Rouen had already been linked to the Islamic State group. A micro-cell of recruits from the area included a Frenchman seen cutting the throat of a Syrian soldier in a November 2014 video. Maxime Hauchard, a Muslim convert, was among at least four people who met at a local mosque and later left to join the extremists.

France is currently under a state of emergency after the Bastille Day attack and a string of deadly assaults last year claimed by ISIS that killed 147 victims.
Fox News' Greg Palkot and The Associated Press contributed to this report.