Atomic Bolivia: President Evo Morales Announces Plan For Country's First Nuclear Reactor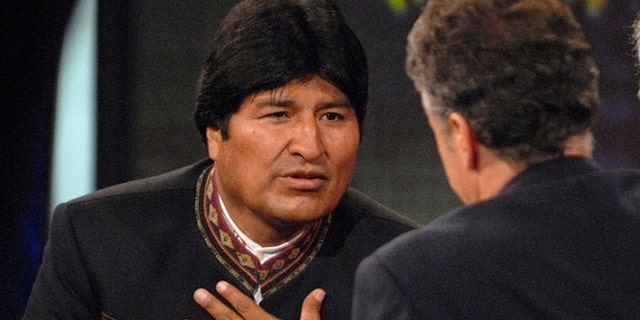 Bolivia's going nuclear. Or so at least the country's president hopes.
Bolivian President Evo Morales announced plans this week to build the Andean nation's first nuclear reactor.
Speaking to the Bolivian Congress, Morales said that Iran, France and Argentina have all purportedly offered help the landlocked South American nation to develop atomic energy.
If Bolivia does build a nuclear reactor, it would become the fourth country in Latin America to have nuclear energy, along with Brazil, Argentina and Mexico.
Chile has only small-scale experimental reactors.
"Bolivia cannot remain excluded from this technology, which belongs to all humankind," Morales said during his annual state of the union address, according to the BBC. "We have decided to create a high-level energy commission. This is a priority of the Bolivian state."
Morales, who has been an outspoken critic of U.S. influence in the region, alongside fellow leftist leaders Venezuelan President Nicolás Maduro and Ecuadoran President Rafael Correa, is running for reelection in October.
Since taking power, Morales, the first indigenous leader in Bolivian history, has pushed his country to modernize its energy and other sectors.
In December, Bolivians celebrated the launch of the country's first telecommunications satellite with indigenous rituals dedicated to "Pachamama," or Mother Earth.
President Evo Morales was in China for the Friday launch into orbit of the Asian country's satellite.
Hundreds of people gathered in the Bolivian capital of La Paz to watch the takeoff on large television screens set up by the government.
The satellite is named after Tupac Katari, an indigenous Aymara hero who led 18th century resistance against Spanish colonizers. It was financed with a credit from the China Development Bank for $302 million.
Ivan Zambrana is director of the Bolivian Space Agency. He said the satellite should be fully operational by March and help bring down communications costs and improve television and Internet services for people living in rural areas.
The Associated Press contributed to this report.
Follow us on twitter.com/foxnewslatino
Like us at facebook.com/foxnewslatino