At least one dead, hundreds injured as police clash with Pakistan protesters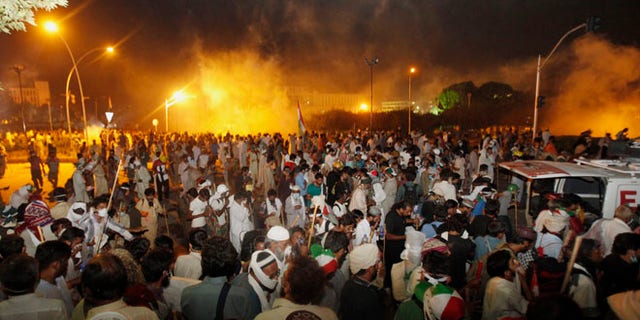 At least one person has died and hundreds of others have been injured as police in Pakistan clashed with protesters who attempted to march on the prime minister's residence in Islamabad Saturday evening.
Senior hospital official Dr. Wasim Khawaja told the Associated Press Sunday that protester Naveed Razzaq drowned in a ditch after he was in a crowd that was bombarded with tear gas. More than 300 people were wounded in the clashes, medical officials said, as police battled protesters with tear gas, batons and rubber bullets near the premier's official residence and the adjacent parliament building.
The violence has raised the stakes in a political standoff, in which cricketer-turned-politician Imran Khan and cleric Tahir-ul-Qadri have led twin protests demanding the resignation of Prime Minister Nawaz Sharif, alleging massive voting fraud in the election that brought him into office last year in the country's first democratic transfer of power.
Backed by parliament and many political parties, Sharif has refused to step down. Government negotiators have tried to convince Qadri and Khan to end their protests.
The protesters started regrouping at daybreak Sunday and made repeated attempts to make their way through heavy deployment of police and barricades to reach the premier's residence. Police strengthened their lines and responded by lobbing tear gas canisters.
Scores of protesters, including women, carrying hammers and iron rods broke down a fence outside the parliament building late Saturday, enabling hundreds of people to enter the lawns and parking area, according to an Associated Press photographer at the scene.
Islamabad police chief Khalid Khattak said the protesters were armed with large hammers, wire cutters, axes and even a crane.
The injured -- including women, children and police officers -- were admitted to two government hospitals in the Pakistani capital, medics and police said. Dr. Javed Akram, who heads the capital's main hospital, said 182 people, including 37 police officers, were treated at the Pakistan Institute of Medical Sciences. Another 152 people were brought to a government hospital near the scene of the clashes, said another physician, Dr. Tanvir Malik.
The protests began with a march from the eastern city of Lahore on Independence Day, Aug. 14, that eventually reached Islamabad. Khan and Qadri had called for millions of protesters to join, but crowds have not been more than tens of thousands.
The protesters' presence and heightened security measures have ground much of the capital to a halt. On Saturday similar marches were held in Lahore and Karachi, and on Sunday small demonstrations were held in other towns.
Riot police initially showed restraint during Saturday's march, but when the crowd started removing shipping containers used as barricades, they fired salvos of tear gas canisters that forced the crowds back.
Interior Minister Nisar Ali Khan visited the scene of the protests late Saturday to boost police morale.
"A group wanted to capture the prime minister's house and other buildings. We are under oath, and the police as well, to protect the state assets," he told reporters.
The Associated Press contributed to this report.