Assad says support for armed opposition must end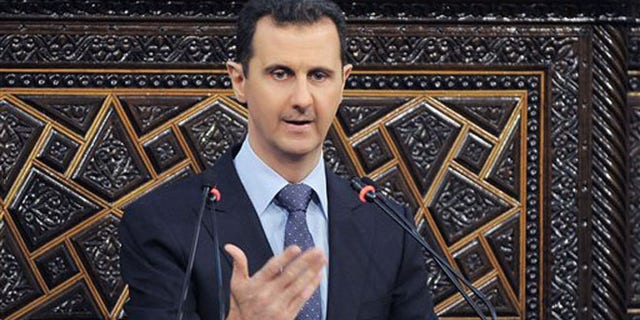 DAMASCUS, Syria – Syrian President Bashar Assad told the Arab League-U.N. envoy Wednesday that foreign support for the armed opposition must end if any political solution to the country's conflict is to succeed, state-run media said.
Assad's comments to Lakhdar Brahimi during their meeting in Damascus cast further doubt on already sputtering efforts to convene an international peace conference to try to end the country's civil war.
The United States, Russia and the United Nations have been trying for months to bring the Syrian government and the opposition together in Geneva to attempt to negotiate a political resolution to the conflict. After repeated delays, efforts renewed in earnest last month to organize the conference, but the Syrian opposition remains deeply divided over whether to attend, while the government refuses to sit down with the armed opposition.
Brahimi's trip to Damascus was the latest stop on a regional tour in recent days as he tries to lay the groundwork for the proposed peace talks in Geneva that are tentatively planned for next month. But Assad, whose government has regained the momentum in recent months in the conflict, showed little sign of inching toward compromise.
"For any political solution to be successful, it is crucial to halt support for terrorist groups and the countries that sponsor them, facilitate the entry of terrorist mercenaries and offer them money, weapons and logistical support," Assad was quoted by Al-Ikhbariya television as telling Brahimi. "The Syrian people alone are entitled to draw the future of Syria. Any solution must be approved by them and reflect their wishes away from any foreign intervention."
"This is paramount to prepare the circumstances for dialogue and put clear mechanisms that achieve this goal," Assad said.
Turkey, Saudi Arabia and Qatar are among the Syrian opposition's most active supporters, providing financial and logistical support to the rebels. The United States and some of its European allies have provided non-lethal aid, although Washington has promised for months to send light arms to Western-backed opposition fighters.
The meeting Wednesday between Brahimi and Assad was the first direct contact between the men in 10 months. After his last trip to Syria in December 2012, Brahimi angered Syrian authorities when he said that 40 years of rule by Assad's family was "too long." Syrian officials then accused him of being biased.
The diplomatic push aims to end a conflict that has killed more than 100,000 people and forced some 2 million more to flee the country. Now in its third year, the civil war pits a primarily Sunni Muslim rebel movement against a government whose security forces are stacked with members of Assad's Alawite sect, an offshoot of Shiite Islam.
The Britain-based Syrian Observatory for Human Rights activist group said rebels killed at least 17 people in an attack on a predominantly Alawite village in the central province of Homs early Wednesday.
Observatory directory Rami Abdurrahman said the opposition fighters killed six government troops at a checkpoint in Shallouh before sweeping into the village itself, where they killed 11 residents.
The SANA state news agency blamed the attack on a "terrorist group," and said 13 locals were killed. The report did not mention any slain soldiers. The government refers to those trying to topple Assad as "terrorists."