As crisis deepens, Puerto Rico's statehood status increasingly subject of debate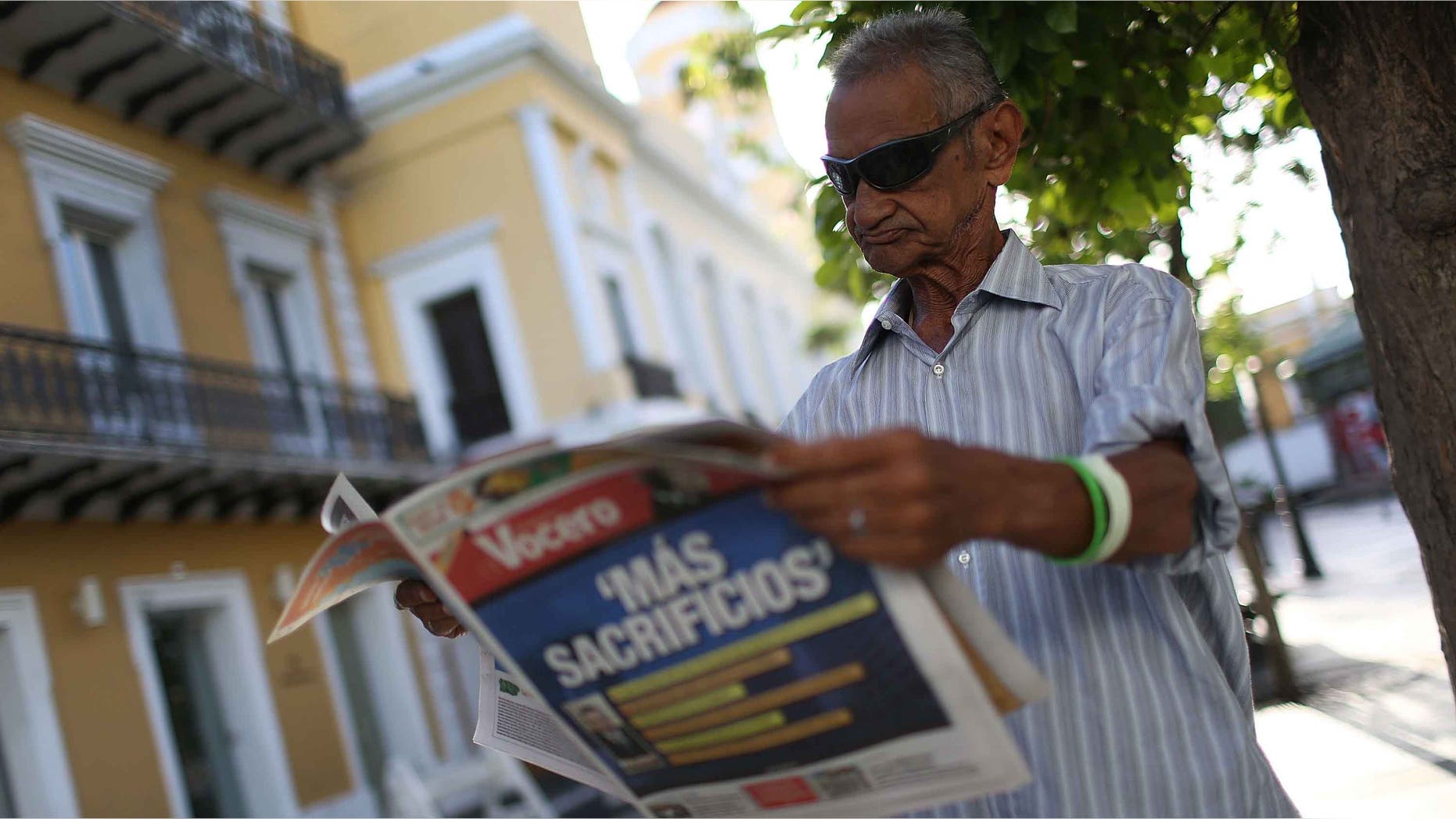 SAN JUAN, Puerto Rico – When 63-year-old Mary Mojica Baldínez speaks of her "country," she, like most Puerto Ricans, isn't referring to the nation that expedited her passport.
"I am Puerto Rican and my country is Puerto Rico," she says proudly, escaping the oppressive Caribbean heat in a lawn chair in the shadows of Santurce, a working class neighborhood in Puerto Rico's capital city.
"I don't consider myself to be much of an American, even if I have that nationality and I lived there for a long time."
Such pride in her Puerto Rican identity might be expected to be followed by a raised fist and a call for independence from the United States. Her feeling on the status of the island is an altogether different matter, however.
"The moment Puerto Rico gains independence I'll leave," she told Fox News Latino. "We can't be independent, because we haven't been taught how to be."
As Puerto Rico grapples with a crushing $72 billion public debt, looming defaults, rising poverty levels and the largest exodus of its inhabitants since World War II, the island's complicated relationship with the United States is increasingly subject of debate here in San Juan.
After declaring a moratorium a $422 million in bond payments last week, Puerto Rico's government is expected to default again in July on another $2 billion. The administration of Governor Alejandro Garcia Padilla, who June last year declared the island's debt 'unpayable', is scrambling to deal with the crisis by laying off thousands of government employees and cutting spending on healthcare and education.
But with almost half of its population living in poverty and some 12 percent unemployment, many Puerto Ricans have lost hope; last year alone, 70,000 packed their bags and left.
Indeed, Puerto Rico's status as an unincorporated U.S. territory with self-government makes it almost impossible for the island to solve the crisis itself. It can't file for Chapter 9 bankruptcy, restructure its debts or request federal bailout money. Congress in Washington D.C. will ultimately have to decide on a solution, on which it hasn't been able to agree upon so far.
Moreover, Puerto Ricans lack voting representation on the Hill and can't vote in November for a new president.
During a visit last week to San Juan, many inhabitants asked by FNL said they are dissatisfied with the status of Puerto Rico, likening it to a colony and lamenting its lack of sovereignty. That same week, on Thursday, the issue was raised by columnist Jorge Iván Rodríguez Feliciano in San Juan newspaper "El Nuevo Día."
In an opinion piece titled "The Shame of Being a Colony," he called for Governor Garcia Padilla, who won't run for re-election in November, to organize a referendum on the status of the island, saying it was the "cause of the majority of the problems and inequalities we Puerto Ricans suffer."
"There's definitely a problem," said René Vargas, a former student activist now working at the University of Puerto Rico in San Juan. "I believe part of the problem has been that Congress in Washington takes decisions about rules, about specific laws that affect Puerto Rico, while Puerto Ricans have no possibility to participate in the creation of them."
This sentiment has been echoed in several polls in recent years and in the non-binding referendum held in 2012. In the latter, 54 percent of voters said they were against continuing its current territorial status.
But if popular opinion were to decide, independence is not the way to go.
In the referendum, little over 5 percent of voters preferred full secession from the United States. A 2013 poll by the universities of Suffolk and Turabo placed that percentage a bit higher, at 14 percent. The general tendency, even with the island having been hit by a recession for a full decade now, is against independence. Indeed, Puerto Rico's Independence Party only won 2.5 percent of votes in the 2012 elections.
"We have never really gotten the idea of independence under our skin," said José Vargas Vidot, a pro-independence activist who leads the non-governmental organization Iniciativa Comunitaria in San Juan and is running as an independent for the Puerto Rican senate in November.
"We know what it means on an intellectual level, but not emotionally," he said.
But another reason few Puerto Ricans believe independence would be a viable option is the fact that the island is heavily dependent on federal funds to survive. Puerto Rico receives over $20 billion in federal finds every year and more than a third of Puerto Ricans are on food stamps.
"It's that dependence on the United States that makes Puerto Ricans terrified of the idea of independence," René Vargas, the student activist, told FNL. "We can't really take any decision without referring to Washington, to Congress, so most people here prefer to maintain the current status."
Far more traction in recent years has gained the movement to gain full statehood. In the 2012 referendum, 61 percent of voters said they preferred become the 51st state, as opposed to the 5 percent wishing independence or the little over 33 percent wanting more autonomy in a free association with the United States.
But some observers say that, even if the debt crisis pushes Puerto Ricans toward overthinking their relationship with the United States, change is unlikely to happen any time soon.
"The independence movement is not very popular, and I don't see the political will in Congress to grant statehood to Puerto Rico," Juan Agosto-Alicea, who served as Puerto Rico's Secretary of Treasury between 1985 and 1989, told Fox News Latino.
Agosto-Alicea himself is more partial to the idea of an autonomous Puerto Rico in a sort of free association with the U.S., but believes now is not the time to change the status of the island.
"We're completely dependent on the U.S., and any kind of change should come gradually," he said. "We should design a plan that would gradually lower the dependence of our economy on the U.S, and maybe, in 15 or 20 years, when our economy would be comparable to that of the poorest U.S. state. We could negotiate more autonomy," he said.