As conclave approaches, Benedict XVI remains out of sight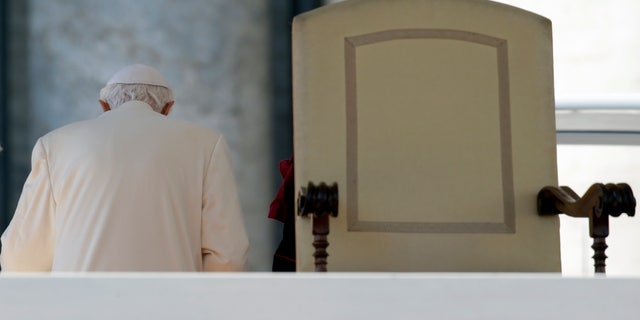 VATICAN CITY – As cardinals move to elect a new pope, the Vatican has seemed intent on getting people to forget the last one.
Benedict XVI's papacy ended last month with an act of great symbolism: Swiss Guards banged shut the giant doors of the papal palace in Castel Gandolfo at the strike of 8 p.m. Since then, Benedict has literally been kept out of sight, part of a calculated strategy to show he will play no role in selecting his successor.
The emeritus pope has only been spotted once since retiring — in a photo snapped by a paparazzo hiding in a tree.
Italian celebrity gossip magazine Chi, which carried the topless photos of Prince William's wife last year, showed Benedict dressed in a white down coat and white baseball hat while taking an afternoon stroll with a cane in the castle gardens, accompanied by his faithful secretary, Monsignor Georg Gaenswein.
These days, the Vatican rarely even speaks of Benedict. And only a few official details have trickled out on his life after the papacy: He slept well his first night as a former pope, celebrated Mass as usual in the morning and ate breakfast. The sparse details all seem to stem from fears over conflicts arising from having a reigning pope and a retired one.
As part of the process of forgetting Benedict, the retired pontiff's coat of arms were removed from a floral display in front of the Vatican's governor's palace, ready to be replaced by the coat of arms of the new pope.
And the Vatican spokesman Monday was quick to dismiss any suggestion of possible contacts between Benedict and the cardinal electors, saying that none had sought him out since they had gathered in Rome.
The Rev. Federico Lombardi said that Benedict won't be getting any inside information about the conclave — and that he would probably follow the proceedings on TV and by reading newspapers. That's a shift from the line taken just two days earlier, when Lombardi said Benedict is receiving regular briefings on cardinals' meetings from Gaenswein.
Nonetheless, Benedict is bound to cast a big shadow over the conclave.
He named 67 of the 115 cardinals who will be voting, so some sense of loyalty may well influence their decisions about the successor. And some have bucked the Vatican line by striving to keep memories of Benedict alive.
Cardinal Christoph Schoenborn, considered a leading candidate himself, spoke openly of his affection for the retired pope during his homily Sunday evening at his titular church Gesu Divin Lavoratore in a blue collar neighborhood of Rome.
He said Benedict's retirement, "made me cry."
"He was my teacher," said Schoenborn. "We worked together for over 40 years. It was a very difficult moment that has to be understood with trust and faith."
He also tried to stress that, despite reports of deep divisions, the conclave was going forward in a spirit of unity.
Referring to a scandal about leaked papal documents, Schoenborn said: "I'm not doing 'Vatileaks' or breaking conclave secrecy when I tell you that I found a spirit of brotherhood like I have rarely experienced before in the meetings we cardinals have had over the past few days."
Any attempt to keep Benedict under wraps clearly touches on the sensitivities surrounding Vatican plans for secretary Gaenswein.
Shortly before announcing his retirement, Benedict gave Gaenswein the additional title of prefect of the papal household, meaning he would work with the new pope during the day and stay with Benedict in the evening.
That has raised speculation about possible secret messages being shuttled between the two popes. Heightening the intrigue over Benedict's possible influence: Gaenswein will be inside the Sistine Chapel for part of the conclave in his new role as prefect.