Former Zimbabwe first lady Grace Mugabe subject of arrest warrant for alleged assault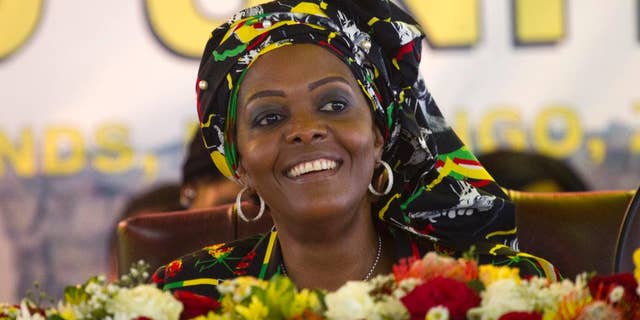 The former first lady of Zimbabwe, Grace Mugabe, is facing an arrest warrant out of South Africa stemming from a 2017 assault allegation.
Prosecutors issued the arrest warrant last week, months after a South African court overturned Mugabe's diplomatic immunity in the case.
The former first lady was granted immunity in late 2017 after she was accused of whipping South African model Gabriella Engels with an extension cord in a Johannesburg hotel room on Aug. 13, 2017. Engels, who received a cut on her forehead, challenged Mugabe's immunity earlier this year.
"I can confirm that a warrant for the arrest of Grace Mugabe was issued last Thursday," South African Police Service spokesman Vishnu Naidoo told Reuters on Wednesday.
He said that police are seeking Interpol's help to enforce the warrant.
It's unclear why the reporting of the warrant was delayed. There has been no immediate response yet from Mugabe or Zimbabwean authorities.
WHO IS GRACE MUGABE, AFRICA'S MOST POLARIZING FIRST LADY?
Mugabe has denied assaulting Engels with the extension cord, saying an "intoxicated and unhinged" Engels attacked her with a knife after the model had gone to see her sons at a luxury hotel in Johannesburg's Sandton district.
Engels has dismissed Mugabe's claim as a lie.
Mugabe was allowed to leave South Africa after the alleged attack, despite calls for her prosecution.
"It seems that justice is going to take place and we are looking forward to this matter going forward," Kallie Kriel, CEO of AfriForum, the lobbying group pursuing the case, told South Africa's Times Live.
"We're now at a point where an arrest is possible," Kriel told the Associated Press. "We believe that this sends out a strong message that nobody is above the law, not even if your surname is Mugabe."
Whether Zimbabwe would assist South African authorities with any extradition request is in doubt, though the arrest warrant means Grace Mugabe would be vulnerable if she visits her sons, who stay in South Africa. She also owns a house there.
Mugabe, who was once seen as the potential successor to her 94-year-old husband Robert Mugabe, has retreated from the limelight since her husband was ousted in a November 2017 coup after 37 years in power.
The Associated Press contributed to this report.