Argentine gas workers held in deadly blast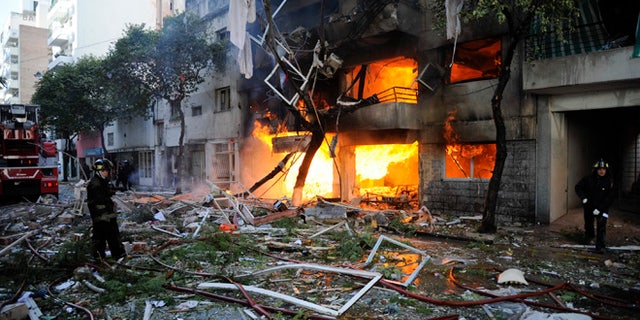 BUENOS AIRES, Argentina – Argentine firefighters found potential signs of life Wednesday as they risked their own, searching through a huge pile of rubble, all that was left of a 10-story apartment building destroyed by a gas explosion that killed 10 people, injured dozens and left 12 unaccounted for.
Two other towers, in front of and behind the collapsed pile, also were heavily damaged by Tuesday's blast and fire and were danger of collapse during the rescue effort, said Marcos Escajadillo, the provincial security secretary in the city of Rosario.
With heavy equipment blocked by the towers that remain standing, firefighters were mostly working by hand, using a sensitive listening device and body-sniffing dogs to try to reach an area two stories underground where they heard sounds that could have been from victims, he said.
"We have some possibilities in the second basement, and that's where, with much difficulty, we have been able to reach. We're trying to work without making a sound or creating vibrations that could provoke a collapse of the other buildings," Escajadillo told a news conference.
Meanwhile, a repairman and his assistant, who were working on the building's gas system moments before the blast, were in custody Wednesday as investigators studied the Litoral Gas company's records and gathered testimony pointing to a potential negligence case.
Judge Juan Carlos Curto said one repairman fled the scene while the other tried to warn people moments before the blast, which damaged buildings for blocks around in Argentina's third-largest city. At least 22 people remained hospitalized Wednesday, authorities said.
Residents of the building said they had been complaining for weeks that natural gas wasn't reaching their stoves and water tanks, and the repairmen were in the building Tuesday trying to fix the problem.
Litoral Gas spokesman Jose Maria Gonzalez told reporters that the company was neither involved in nor informed beforehand about Tuesday's repair, and said it had received no complaints since a July 26 gas repair in the building, after which an inspector agreed to turn the gas back on.
Judge Curto confirmed that the detained repairman, Carlos Osvaldo Garcia, and his assistant were not directly employed by Litoral Gas. He said he ordered records of the gas company and the building's owner to be searched to determine responsibility in the criminal negligence case.
"This isn't something that just happened yesterday, but rather it had been coming for days with different jobs by Litoral Gas and by repairmen, not just the detained one, and this resulted in yesterday's repair job that was directly linked to the explosion," Curto told reporters.
"One of the two fled, and the other apparently tried, with an exemplary conduct, to stop cars from passing by the building, according to the person who was with them both at the time," the judge added.
While Garcia and his assistant awaited questioning in police custody, Garcia's defense lawyer, Hugo Bufarini, asked that his client get psychiatric counseling and said the 20-year licensed veteran repairman should not be singled out.
Rosario's largest newspaper, La Capital, was among many Argentine media organizations that interviewed the building's distraught doorman, identified only as "Pedro," who said he was with the repairmen when it happened.
"It all happened so fast," the doorman said. "I was calling to `emergencies' (911). I told the repairman that many people would die. He grabbed his things, climbed into the white truck and left."
The doorman said he himself feels to blame for not being able to save lives.
"I didn't have time to tell people to get out. I feel so sorry for not being able to help. I couldn't tell people to get out because they were going to die inside."