Argentina Grounds Presidential Plane After Fears of Seizure over Bond Default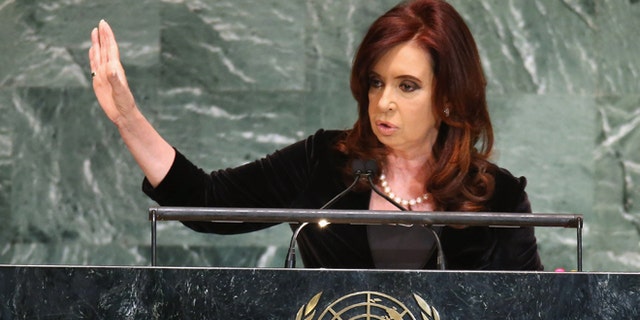 For her upcoming trip to Asia and the Middle East, Argentine President Cristina Fernández de Kirchner will be flying first class in a private plane.
The plane, however, will not be her traditional presidential jet, Tango 01, but a privately charted jet due to concerns that creditors might try to seize her official aircraft.
The charted plane will cost the Argentinean government $880,000 for the weeklong trip – approximately 20 percent more than it would cost to travel in the presidential plane, a Boeing 757. The Southern Cone nation charted a similar plane from the U.K.-based company Chapman Freeborn for Fernández de Kirchner's trips in 2010 and 2011 throughout South America and Europe.
The decision to charter a plane instead of flying in Tango 01 came after Argentine government attorney's cautioned that the plane could be seized by creditors in a similar fashion to the apprehension of one of the country's iconic tall ships in Ghana last year.
The ship, an Argentine naval training vessel, was seized by Ghanian officials on the behest of NML Capital Ltd., an investment fund headed by New York businessman Paul Singer's hedge fund.
Singer convinced a judge to hold the ship as a way to force the country to pay up its bonds. The ship was originally supposed to stop in Nigeria, and the decision to stop in Ghana led to the resignations and suspension of the Argentine officials.
NML wants to collect $1.6 billion in judicial awards that Argentina owes the fund after the country defaulted on its debts.
"Due to the aggressive posture of the vulture funds … it's highly probable that they will attempt" to seize the plane, the Argentinean government stated, according to The Wall Street Journal.
Since Argentina defaulted on almost $100 billion in 2001, the country has struggled to fight "holdout creditors" and has been dogged by investors in courts across the globe.
In the summer of 2010, Argentina reopened its 2005 debt exchange, with a total of approximately $12.86 billion of eligible debt tendered and a total of 92.6 percent of the debt restructured.
NML was among the 6 percent of debt holders who continued to hold out.
Tango 01 has been the target of creditors before, as well as aircraft from the country's Aerolíneas Argentinas. So far, all the creditors' attempts to impound aircraft have failed.
The tall ship held in Ghana was released in December after the International Tribunal for the Law of the Sea ruled it was immune from detention.
Fernández de Kirchner will also make a side trip to visit ailing Venezuelan leader Hugo Chávez, who is in Havana, Cuba recovering from his cancer surgery.
Follow us on twitter.com/foxnewslatino
Like us at facebook.com/foxnewslatino