Angry bird: Artist offers Czech president obscene gesture ahead of elections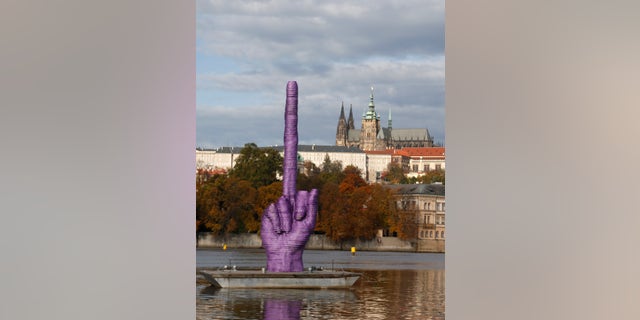 NEWYou can now listen to Fox News articles!
An artist has sent an unusual, but very clear message to the Czech Republic president ahead of parliamentary elections.
Sculptor David Cerny created a giant purple hand -- extending an oversized middle finger -- and placed it on a pontoon boat on Prague's main Vltava river Monday. The giant gesture floated near the famous Charles Bridge, visible from Prague Castle, where Czech President Milos Zeman would have a perfect view.
Cerny -- who is locally known for his anti-communist stance -- designed the stunt before this week's parliamentary elections, which could give the communists a taste of power almost a quarter-century after they were ousted.
Zeman supports a plan by the leftist Social Democrats to form a minority government after the vote, with tacit support from the maverick Communist Party.
It would be for the first time since the 1989 anti-Communist Velvet Revolution that the party would get power, at least indirectly.
It is unclear how long the finger will stay afloat. Cerny declined to say much about the piece, telling the BBC that the sculpture speaks for itself.
Zeman is on an official visit to Ukraine and said he could not comment until he had seen the sculpture, according to the BBC.
The Czech parliament was dissolved in August following weeks of turmoil in Czech politics.
Prime Minister Petr Necas's government collapsed in June amid a bribery scandal. A government of technocrats -- formed by President Zeman in July and opposed by the main political parties -- resigned in August.
The Associated Press contributed to this report.