Amnesty Denied for Ex Guatemala Dictator Rios Montt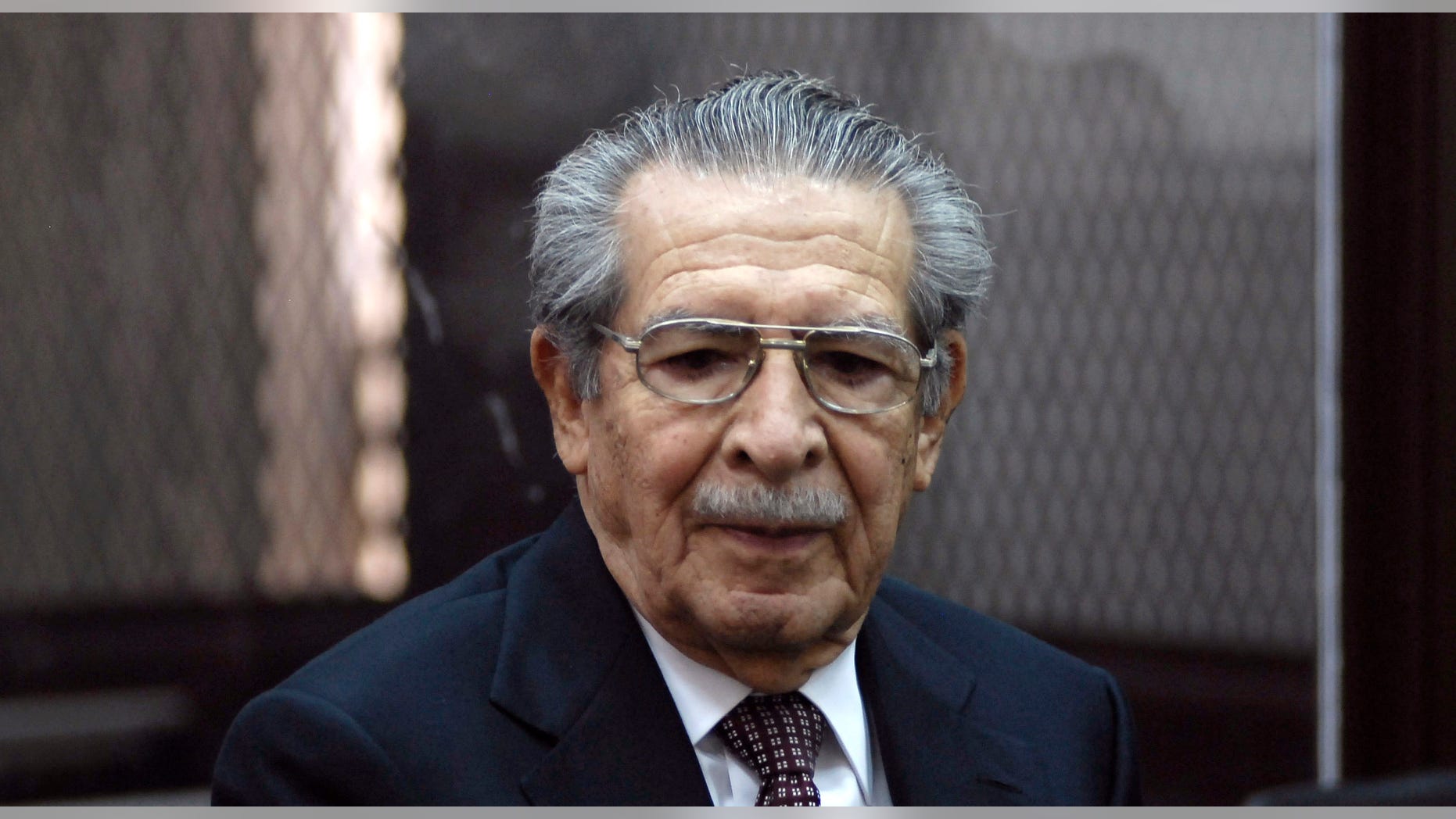 GUATEMALA – On Thursday, a judge ruled that a former U.S.-backed dictator, who presided over one of the bloodiest periods of Guatemala's civil war, will not be allowed amnesty for charges that he ordered the murder, torture and displacement of thousands of Mayan Indians.
The decision to strip ex-Gen. José Efraín Ríos Montt of the pardon granted by his successor more than a quarter-century ago will be appealed to Guatemala's highest court, his defense said. That means any trial of the 85-year-old former strongman could be months or years away.
Nonetheless, human rights advocates said Judge Miguel Angel Gálvez's decision is an important symbolic victory for the victims of one of the most horrific and devastating conflicts in Central America during the last decades of the Cold War.
Guatemala's leaders have been criticized for years for their inability or unwillingness to prosecute government forces and allied paramilitaries accused of marching into Mayan villages, carrying out rapes and torture, and slaughtering women, children and unarmed men in a "scorched earth" campaign aimed at eliminating the support for a left-wing guerrilla movement.
Budget Travel: Antigua, Guatemala
Despite a series of international inquiries finding him responsible for war crimes, Ríos Montt served as a Guatemalan congressman for 15 years until he lost a re-election race late last year. He had held immunity from prosecution while a member of Congress and was put under house arrest after losing his post.
One of the highest priorities of the president who won last year's election, Otto Fernando Pérez Molina, has been campaigning for the elimination of a U.S. ban on military aid to Guatemala, which is locked in a fight against heavily armed drug cartels that have taken over swathes of the country.
Among the conditions set by the U.S. Congress for restoring the aid is reforming Guatemala's justice system and putting an end to impunity.
The decision to hold Ríos Montt  responsible for war crimes committed during his 1982-83 regime could stand as a precedent in the cases of two other former generals accused alongside Ríos Montt  and of dozens of other lower-ranking military men accused of participating in atrocities, victims' advocates said.
"This proves that Guatemala's judiciary is willing to uphold their international responsibilities even against the most powerful and this is significant," said Marcie Mersky, program director for the International Center for Transitional Justice in New York.
Galvez ruled that a 1986 amnesty law passed by Gen. Óscar Mejía Victores, who ousted Ríos Montt, was invalidated by an international treaty against genocide that Guatemala signed in 1949.
Ríos Montt is accused of authorizing 1,400 human rights violations, the displacement of 29,000 indigenous Guatemalans and 1,771 killings, many under a program intended to completely eliminate an indigenous Mayan ethnic group known as the Ixil.
"There are crimes like genocide and crimes against humanity that have no statute of limitations, and for that reason there can be no amnesty decree," Gálvez said.
Hundreds of Mayans from Quiché province, where most of the massacres occurred, attended the hearing and ran after Ríos Montt as he left the courtroom, impassive and silent. The Indians were blocked from reaching Ríos Montt by soldiers and his bodyguards.
Belize: Between Oil and Tourism
When the charges were brought in January, Ríos Montt told the court, "I understand what the prosecution is saying and I won't respond." He later added, "The point is to do justice, not vengeance."
Edgar Perez, a lawyer representing the victims, said the ruling "means that a fair trial is being held, because these are crimes of international importance."
Defense lawyer Francisco Palomo said the judge's decision would be appealed.
"This is a long process, and the Constitutional Court (Guatemala's highest tribunal) will be the one to decide," Palomo said.
Ríos Montt, who took power in a 1982 coup and was toppled the following year, was appealing charges filed in January by another judge, the first time a Latin American court had charged a former president with genocide.
The former dictator was told not to communicate with others accused in the case, which also involves former Gens. Mauricio Rodriguez Sanchez and Hector Mario Lopez Fuentes, the army chief of staff under Ríos Montt.
Both men are in their 80s and say poor health has kept them from court proceedings.
Based on reporting by the Associated Press.
Follow us on twitter.com/foxnewslatino
Like us at facebook.com/foxnewslatino