Alitalia Crew Reportedly Foils a Hijacking Attempt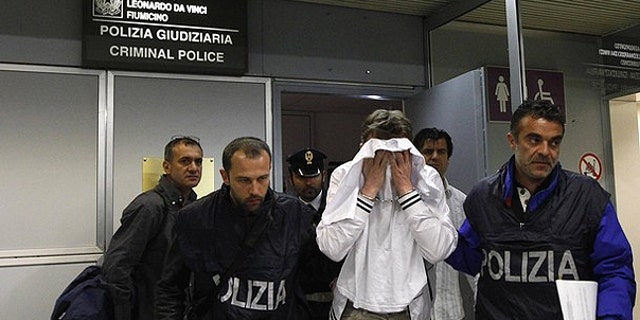 A would-be hijacker on board an Alitalia flight from Paris to Rome was subdued Sunday night after he demanded the plane be diverted to Libya, according to reports.
The man, a 48-year-old from Kazakhstan with no criminal record, was armed with a nail clipper or small knife and appeared to be in a confused state of mind during the scuffle, news agencies reported.
Flight AZ329 landed safely in the Italian capital with all 131 passengers on board as scheduled. Police at Rome's Leonardo da Vinci airport took the man into custody for questioning, Alitalia said.
"A clearly agitated passenger attacked a flight attendant, asking that the flight be diverted to Tripoli," Alitalia said. "Thanks to the prompt intervention of attendants, the aggressor was immobilized and (kept) in his seat, and the flight continued on to Rome," where it landed at 9:55 p.m. as scheduled, the airline said.
Alitalia said the female flight attendant was checked by staff at the airport's first-aid office as a precaution but she was reported to be unharmed.
A statement from Alitalia airlines said the man had assaulted a flight attendant "and asked that the plane be taken to Tripoli," reported Reuters.
Alitalia didn't identify the passenger.
The man's motive was not immediately known. Italian police were in contact with French authorities over the incident, ANSA said.
The Associated Press contributed to this report.