Al Qaeda plotting massive deadly attacks on West, Britain's MI5 chief says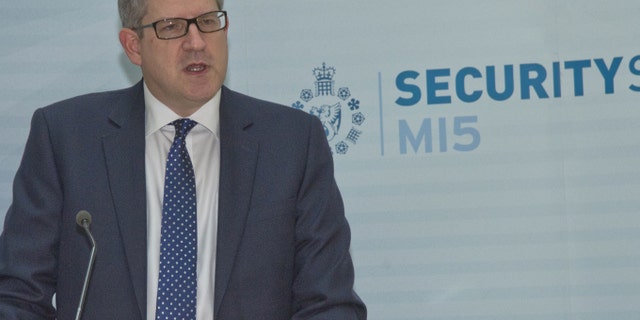 Al Qaeda militants are planning an attack on the West, aimed at inflicting mass casualties on transport systems or at "iconic targets," the head of Britain's MI5 Security Service warned Thursday.
"A group of core al Qaeda terrorists in Syria is planning mass casualty attacks against the West," Director General Andrew Parker said in a rare public speech to a select group at MI5 headquarters in London, Reuters reported. The last time Parker made a public speech was in October 2013.
"We know that terrorists based in Syria harbor... ambitions towards the UK - trying to direct attacks against our country, and exhorting extremists here to act independently," Parker said.
The remarks were planned before, but delivered after Wednesday's terror attack in Paris, when Islamic extremists stormed into the office of a French satirical newspaper, leaving 12 people dead.
Parker said trained al Qaeda militants in Syria plan to "cause large-scale loss of life, often by attacking transport systems or iconic targets" in the West.
A former head of the Defense Intelligence Agency told Fox News that Parker's remarks jibe with current U.S. intelligence regarding al Qaeda's ongoing attempts at mass casualty attacks and targeting iconic Western symbols.
U.S. and European intelligence suggests al Qaeda militants from Pakistan have traveled to embattled Syria, where they can find British volunteers to attack in the U.K., Sky reported. Parker said about 600 British extremists had traveled to Syria to join the ISIS terror group, which have recently taken control of large areas of Syria and Iraq.
A senior U.S. intelligence official told Fox News Parker was referring to the "Khorrasan" group in northern Syria.
"We face a very serious level of threat that is complex to combat and unlikely to abate significantly for some time," Parker told the crowd.
While ISIS is the newest threat to the West, Parker suggested al Qaeda still has ambitions for a large-scale attack. He also discussed the challenges of stopping attacks by self –started "lone wolves."
"We believe that since October 2013 there have been more than 20 terrorist plots either directed or provoked by extremist groups," he said, citing deadly attacks in Europe, Canada and Australia. He said security services have stopped three potentially lethal terrorist plots inside Britain alone in recent months.
It is harder, he said, for agents to disrupt plans of small groups or "lone wolves" who act spontaneously, with minimal planning but deadly effect. The individuals are not part of disciplined, sophisticated networks, and often act with little or no warning.
Parker said the terrorists' sophisticated use of social media has been successful in inciting British nationals to carry out violence.
"The dark places from where those who wish us harm can plot and plan are increasing," Parker said.
Security experts say an Internet-driven, generalized rage against Western society can spark an attack at any time — like the massacre in Paris, an attack on a Jewish Museum in Belgium, or the slaying of a soldier in the streets of London.
Al Qaeda was responsible for the September 11, 2001 U.S. attacks that killed nearly 3,000 people, and a suicide bomb attack on commuters in London on July 7, 2005 that left 52 people dead.
Fox's Jennifer Griffin and the Associated Press contributed to this report.