Al Qaeda leader urges holy war over Prophet film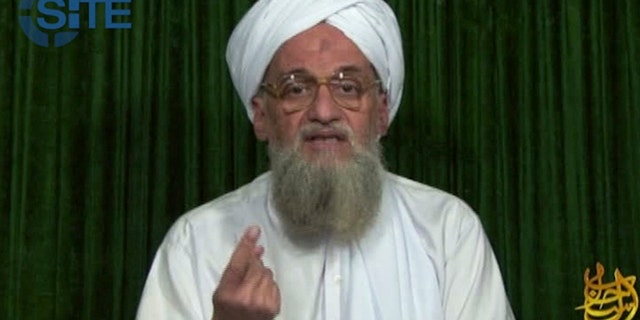 CAIRO – The leader of Al Qaeda is encouraging Muslims to wage holy war against the United States and Israel in response to a film that insulted Islam's Prophet Muhammad.
Ayman al-Zawahri, in an audio message released by Al Qaeda's media arm As-Sahab early Saturday, claimed Washington allowed the film's production under the pretext of freedom of expression, but added that "this freedom did not prevent them from torturing Muslim prisoners."
The crudely-produced amateur film, "Innocence of Muslims," which was posted to YouTube and other online forums, was made by an Egyptian-born American citizen. The video sparked violence in the Middle East, including in Egypt and Libya, where Ambassador Christopher Stevens and three others were killed on Sept. 11 during an attack on the U.S. Consulate in Benghazi. Dozens more have also been killed in violence related to the film.
In Saturday's audio recording, Al-Zawahri praised "honest and zealous" demonstrators who breached the U.S Embassy in Cairo and attackers who stormed the U.S. "embassy" in Benghazi.
Separately, officials said this week that Al Qaeda is rebuilding in Iraq and has established training camps for insurgents in the nation's western deserts as the extremist group seizes on regional instability. Iraq has seen an increase in Al Qaeda attacks over the last 10 weeks, and officials believe most of the fighters are former prisoners who have either escaped from jail or were released by Iraqi authorities for lack of evidence after the U.S. military withdrawal last December. Many are believed to be Saudi or from Sunni-dominated Gulf states.
During the war and its aftermath, U.S. forces, joined by allied Sunni groups and later by Iraqi counterterror forces, managed to beat back Al Qaeda's Iraqi branch. But now, Iraqi and U.S. officials say, the insurgent group has more than doubled in numbers from a year ago — from about 1,000 to 2,500 fighters. An average of 140 attacks each week across Iraq, up from 75 attacks each week earlier this year, according to Pentagon data.
"AQI is coming back," U.S. Sen. Lindsey Graham, a Republican from South Carolina, declared in an interview last month while visiting Baghdad.
President Obama considered leaving several thousand troops in Iraq past the 2011 withdrawal deadline. But negotiations disintegrated last fall when Baghdad refused to extend legal immunities to any U.S. combat troops remaining in Iraq, meaning they could have been prosecuted for defending themselves if under attack.
Republicans, meanwhile, blame Obama for failing to push Baghdad harder or to find a compromise that would have let U.S. troops remain in Iraq as a safeguard against Al Qaeda and deteriorating Mideast stability. GOP presidential candidate Mitt Romney earlier this week accused the White House of wasting gains the U.S. made in Iraq.
Obama pushed back on Monday, saying he had fulfilled a campaign promise to end the Iraq war.
"Gov. Romney said it was tragic to end the war in Iraq. I disagree," Obama said in a campaign speech. "We cannot afford to go back to a foreign policy that gets us into wars with no plan to end them."
For years, Al Qaeda in Iraq had a lukewarm relationship with the global terror network's leadership. It was the Syrian civil war, now in its 19th month, that prompted global Al Qaeda leader al-Zawahri last February to embrace the Iraqi insurgency in hopes of recruiting fighters and support against Assad.
In 2007, al-Zawahri and Usama bin Laden distanced themselves from the Iraqi militants for killing civilians instead of only targeting the U.S. military and other Western targets. Now, there's little doubt that al-Zawahri's appeal to Al Qaeda in Iraq bolstered its legitimacy and injected confidence into the insurgency just as the U.S. troops left.
The Associated Press contributed to this report.