Al Qaeda in Afghanistan is attempting a comeback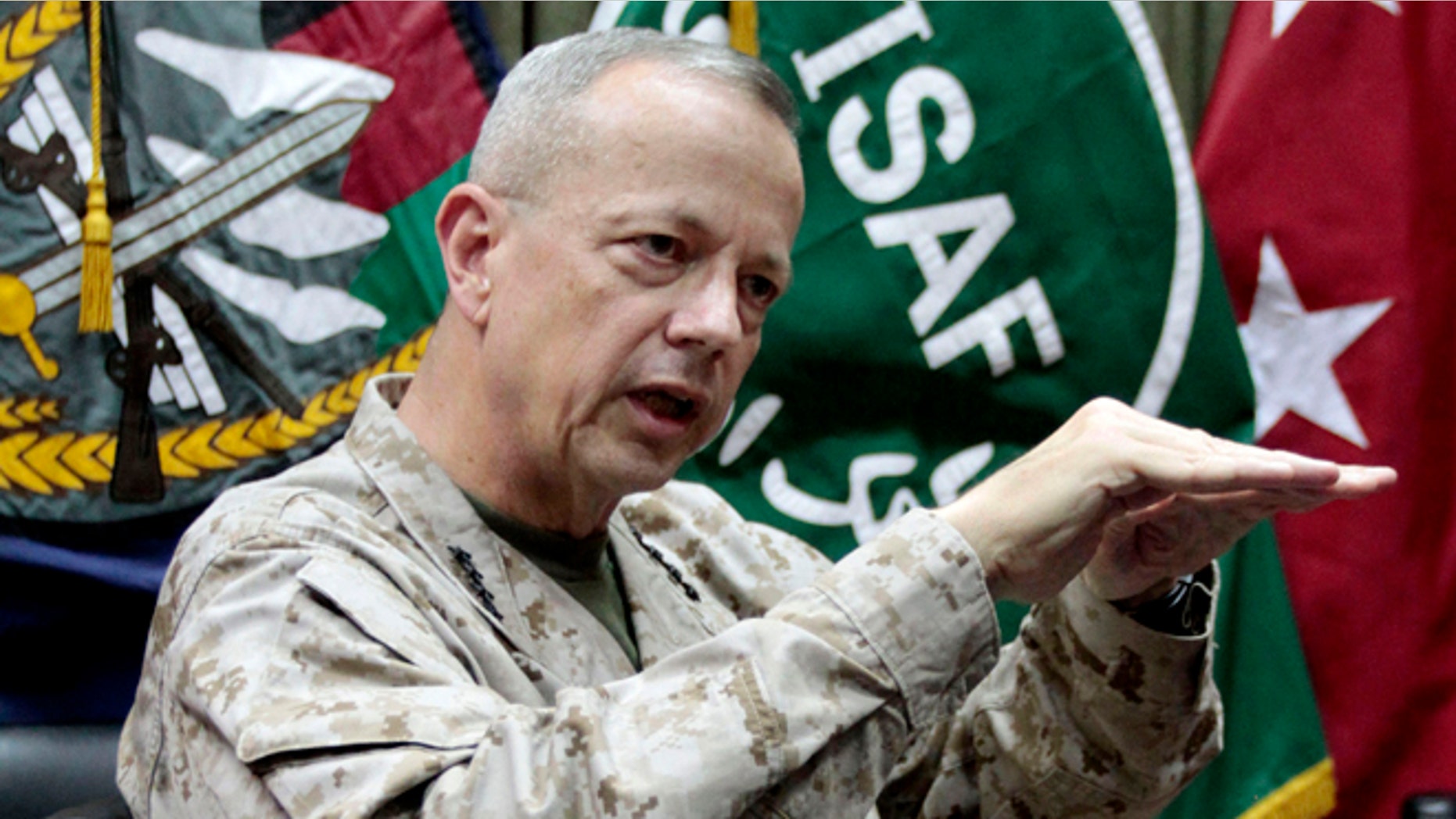 KABUL, Afghanistan – A diminished but resilient Al Qaeda, whose Sept. 11, 2001, attacks drew America into its longest war, is attempting a comeback in Afghanistan's mountainous east even as U.S. and allied forces wind down their combat mission and concede a small but steady toehold to the terrorist group.
That concerns U.S. commanders, who have intensified strikes against Al Qaeda cells in recent months. It also undercuts an Obama administration narrative portraying Al Qaeda as battered to the point of being a nonissue in Afghanistan as Western troops start leaving.
When he visited Afghanistan in May to mark the one-year anniversary of the U.S. raid that killed Osama bin Laden, President Barack Obama said his administration had turned the tide of war. "The goal that I set -- to defeat Al Qaeda, and deny it a chance to rebuild -- is within reach," he said.
As things stand, however, an unquestionably weakened Al Qaeda appears to have preserved at least limited means of regenerating inside Afghanistan as U.S. influence in the country wanes. The last U.S. combat troops are scheduled to be gone by Dec. 31, 2014, with security matters turned over to the Afghan government.
"They are trying to increase their numbers and take advantage of the Americans leaving," the police chief of Paktika province, Gen. Dawlat Khan Zadran, said through a translator in an interview this month in the governor's compound. He mentioned no numbers, but said Al Qaeda has moved more weapons across the border from Pakistan.
For years the main target of U.S.-led forces has been the Taliban, rulers of Afghanistan and protectors of Al Qaeda before the U.S. invasion 11 years ago. But the strategic goal is to prevent Al Qaeda from again finding haven in Afghanistan from which to launch attacks on the U.S.
Al Qaeda's leadership fled in late 2001 to neighboring Pakistan, where it remains.
The group remains active inside Afghanistan, fighting U.S. troops, spreading extremist messages, raising money, recruiting young Afghans and providing military expertise to the Taliban and other radical groups.
U.S. Gen. John Allen, the top commander of international forces in Afghanistan, has said Al Qaeda has re-emerged, and although its numbers are small, he says the group doesn't need a large presence to be influential.
U.S. officials say they are committed, even after the combat mission ends in 2014, to doing whatever it takes to prevent a major resurgence. The Americans intend, for example, to have special operations forces at the ready to keep a long-term lid on Al Qaeda inside Afghanistan.
A more immediate worry is the threat posed by the growing presence of Al Qaeda and affiliated groups in Yemen, Somalia and across a broad swath of North Africa, where it is believed Al Qaeda-linked militants may have been responsible for the attack on the U.S. Consulate in Benghazi, Libya, that killed U.S. Ambassador Chris Stevens and three other Americans.
U.S. and Afghan officials say Al Qaeda also has been building ties with like-minded Islamic militant groups present in Afghanistan, including Pakistan-based Lashkar-e-Taiba, which is blamed for the November 2008 rampage in Mumbai, India, that killed 166 people, and the Islamic Movement of Uzbekistan, which is present in the north.
Ahmadullah Mowahed, a member of the Afghan parliament from the eastern province of Nuristan, along the Pakistan border, said he fears the departure of American combat forces will open the way for the Taliban and Al Qaeda to overwhelm the provincial government.
"As soon as they leave, the eyes of Al Qaeda will quickly focus on Nuristan," he said.
U.S. analysts say there is reason for concern that Al Qaeda is down, but not out.
"They've been hit hard in a few cases, but they definitely are involved in the fight -- absolutely," said Seth G. Jones, a senior political scientist at RAND Corp.
Jones, a former adviser to the commander of U.S. special operations forces in Afghanistan, recently returned from a trip to eastern Afghanistan where he learned that Al Qaeda's support network has expanded and its relations with groups such as the Pakistani-based Haqqani network are strong.
"That's a very serious concern because that kind of environment would allow Al Qaeda to continue to operate, at least at a small level, because it's a workable environment for them, he said.
Richard Barrett, head of a U.N. group that monitors the threat posed by Al Qaeda and the Taliban, said Al Qaeda fears the Taliban will strike a deal with the Afghan government that would make the group all but irrelevant.
"So they will be doing whatever they can to assert their influence, to assert their presence" in Afghanistan, he said.
At least for now, Al Qaeda in Afghanistan has no capability to launch attacks on the U.S., although commanders are taking no chances.
Little-noticed fragmentary U.S. military accounts of raids and strikes against Al Qaeda in the northeastern provinces of Kunar and Nuristan show the group retains a command structure inside Afghanistan. On May 27, the U.S. killed the No. 2 commander in Afghanistan, Saudi national Sakhr al-Taifi, in Kunar, but it has yet to catch up to the top Al Qaeda commander in the country, identified by U.S. officials as Farouk al-Qahtani, who resides in Nuristan.
In early September the international military coalition announced the death of an Al Qaeda operative, Abu Saif, described as an associate of an Al Qaeda leader killed along with several of his fighters July 1 in Kunar. Saif was called a conduit between senior Al Qaeda leaders in Pakistan and Afghanistan, passing messages between them. In the most recent strike, officials said Sept. 27 they killed Al Qaeda "facilitator" Abdul Rauf in Kunar. He was a Pakistani coordinator of foreign fighters' movements into Afghanistan and a builder of improvised explosive devices for attacks on coalition troops.
Interviews with Afghan officials suggest that Al Qaeda also is present in other parts of the country, including the northwestern province of Faryab as well as Logar province, just south of Kabul.
Logar's provincial chief of police, Gen. Ghulam Sakhi Roogh Lawanay, said it is difficult to know how many militants are directly affiliated with Al Qaeda, but he estimated their numbers in Logar at 100 to 150.
"Al Qaeda is very active. It is like fish. When one fish dies, another comes," he said in a recent interview. "The determination of these Arab fighters is high."
In interviews in Kabul and Washington, U.S. officials said they are satisfied that Al Qaeda is so small inside Afghanistan -- they put the number at between 50 and 100 fighters -- that they can be contained indefinitely if the Afghan government allows U.S. counterterrorism forces to monitor and hunt the remnants. U.S. and Afghan officials are working to craft talks on a bilateral security agreement that could include such an arrangement.
Al Qaeda's numbers, however, don't tell the whole story.
Allen has said Al Qaeda has learned to leverage its presence in Afghanistan to give the impression of having withstood U.S. military might and to burnish its image as a global force.
U.S. commanders say they will keep up pressure on Al Qaeda to frustrate its goals, but few believe Al Qaeda will be gone before U.S. troops leave.
"I see no evidence to suggest that it will be eliminated by 2014," said Jones, the RAND analyst.