After historic and messy election, Britain's government sets out austere legislative program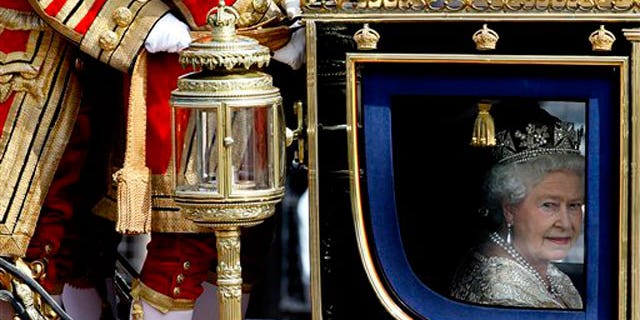 LONDON – LONDON (AP) — Queen Elizabeth II delivered a somber message of austerity Tuesday in a speech outlining the plans of Britain's new coalition government — setting out a program for sharp curbs to public spending, new regulation of the financial sector and changes to the centuries-old political system.
The queen wore a crown studded with 2,000 diamonds for the annual pageant of power, pomp and politics — featuring canon fire, cavalry, red-jacketed Yeoman warders and glittering carriages.
Delivering her address, drafted by government officials on her behalf, the queen said Britain would seek to immediately tackle a record national deficit. Public sector net borrowing for the fiscal year ending April 5 was 154.5 billion pounds ($233 billion).
"The first priority is to reduce the deficit and restore economic growth," the queen said, addressing legislators from a throne in the House of Lords.
Under the 18-month program, the Bank of England will take over regulation of financial services and a new independent Office of Budget Responsibility will handle economic forecasts. There will be a review over raising the state pension age, a planned increase in payroll taxes will be scrapped, and a new tax levied on banks. Immigration from outside the European Union will be capped.
The government will hold a referendum on making Britain's voting system more proportional and introduce fixed, five-year parliamentary terms. Currently, a prime minister choses when to end a parliamentary session and call an election — typically waiting for the most politically advantageous date.
Those measures follow last year's scandal over lawmakers' excessive expense claims and are intended to "restore trust in democratic institutions and rebalance the relationship between the citizen and the state," the queen said.
She confirmed an unpopular 5.1-billion-pound ($7.3 billion) plan for national identity cards will be dropped. An initial package of 6 billion pounds ($8.7 billion) in other spending cuts were outlined Monday.
The queen confirmed that she and Prince Philip, the Duke of Edinburgh, will visit Canada in June and travel to New York to visit the United Nations in July.
In a debate following the monarch's address, Prime Minister David Cameron acknowledged cuts to spending will be tough, and likely unpopular — but looked to pin the blame on Britain's ousted leader Gordon Brown, saying he had offered "not one word of apology for the appalling mess that has been left in this country."
Sitting alongside Nick Clegg, the deputy prime minister and Liberal Democrat leader , Cameron also offered a tough stance over Iran's nuclear program, backing plans for harsher international sanctions. "I believe it is time to ratchet-up that pressure and the timetable is short," Cameron said.
Hundreds of people crowded streets outside Parliament to watch the queen's horse-drawn carriage parade from Buckingham Palace. Sailors bearing bayonet-tipped rifles lined her route, and silver-helmeted cavalry cantered behind.
The annual pageant draws heavily on the history of a power struggle between the monarchy and Parliament. Lawmakers are summoned from the House of Commons to listen to the queen by an official known as Black Rod — but only comply after first slamming the door in his face to symbolize their independence.
Since King Charles I tried to arrest members of the House of Commons in 1642 — and ended up deposed, tried and beheaded — the monarch has been barred from entering the Commons.
Britain's new coalition government — an unlikely partnership between the center-right Conservatives and their junior allies, the center-left Liberal Democrats — was formed following an election on May 6 that denied all parties an outright majority. Cameron's Conservatives have returned to office for the first time since 1997, ousting the Labour Party after 13 years.