African migrants storm Spanish beach after arriving on inflatable boat
About two dozen people suspected of being migrants from Africa surprised sunbathers in Spain on Wednesday when they came ashore and jumped off of an inflatable boat.
The migrants were captured on video on a black inflatable boat coming ashore in Cadiz, on the southern Spanish coast. As the boat pulls into shallow water, those onboard leapt out and ran toward the shore.
One onlooker asks in an astonished voice: "What's going on?"
Carlos Sanz, who shot the video while on vacation in Cadiz, said the group quickly vanished and police arrived some time later.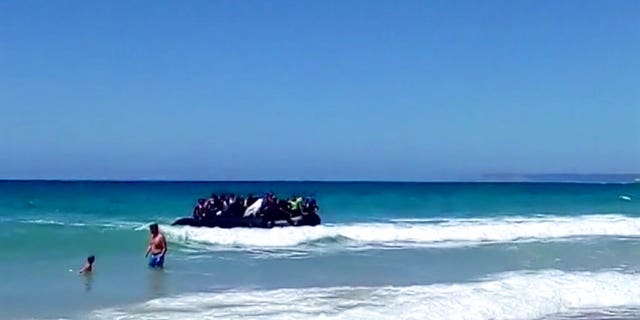 Spanish officials couldn't immediately be reached for comment after office hours.
Disembarkations by migrants on Spanish beaches aren't common but have happened before, especially in cities with African enclaves like Melilla and Ceuta, which border Morocco.
Thursday morning, about 700 migrants tried to storm the border crossing between Spain's North African enclave of Ceuta and Morocco. None of them managed to make it across.
The Associated Press contributed to this report.