Afghanistan's Abdullah rejects election outcome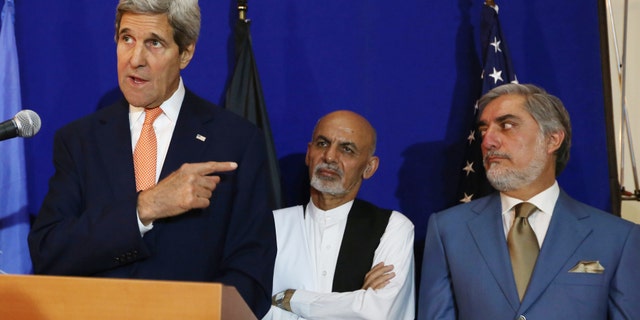 KABUL, Afghanistan – Abdullah Abdullah, one of two contenders for Afghanistan's presidency, said Monday that he will not accept the expected outcome of the election's second round and that talks with his opponent to form a national unity government are deadlocked.
Abdullah said he believes he won both times that Afghans voted this year -- in April and again in a July runoff -- and he accused election authorities of giving the win to his opponent, former Finance Minister Ashraf Ghani Ahmadzai.
The country's election commission is expected to announce the second-round results later this week following a weekslong audit process carried out to weed out the many fraudulent ballots cast.
"We were the winners of the election," said Abdullah, who appeared uncomfortably and possibly tired as he spoke behind a wooden podium. "We are the winners of the election based on the real vote of the people."
The U.S. has been pressing Abdullah and Ghani Ahmadzai to form a national unity government. The two sides have not been able to agree on what powers the newly created position of chief executive would have.
"The political process has reached a deadlock," Abdullah said.
Tuesday is a national holiday to honor a former militia commander, Ahmad Shah Massoud, a figure who has attained hero status among Afghanistan's northerners. Massoud was killed two days before the Sept. 11, 2001, attacks in the U.S.
Knowing that tensions among could run high on Massoud Day, Abdullah asked the country for calm and told supporters not to mix their emotions over the election and Massoud.
Abdullah -- who placed second in Afghanistan's 2009 vote after what he alleged was massive vote fraud in favor of President Hamid Karzai -- did not say what he planned to do next. He said he would make a decision "based on consultations with the people."