Afghanistan military school assault leaves nearly a dozen soldiers dead, officials say
At least 11 Afghan soldiers were killed and 16 others were wounded after an army unit guarding a military academy came under attack early Monday, officials said.
A suicide bomber first attacked the unit guarding the Marshal Fahim National Defense University in Kabul, and the attack was followed by a gun battle in which the two soldiers were killed, Afghan defense ministry spokesman Dawlat Waziri said.
Waziri said five militants led the attack and at least two of them blew themselves up and two others were killed in a gun fight, while one was arrested alive by soldiers.
"The Afghan National Army is the country's defense force and makes sacrifices for the security and well-being of the people," Defense Ministry officials said.
Mohammed Ehsan, of Kabul, told Reuters that he heard explosions outside the academy at around 5 a.m., and the attack continued for at least an hour. Smaller blasts could reportedly still be heard after, but at less frequent intervals.
The same academy was also attacked in October last year by a suicide bomber who killed 15 officers. The attacker was on foot and detonated his suicide vest as the on-duty officers were leaving the facility, heading home in the evening. That attack was claimed by the Taliban.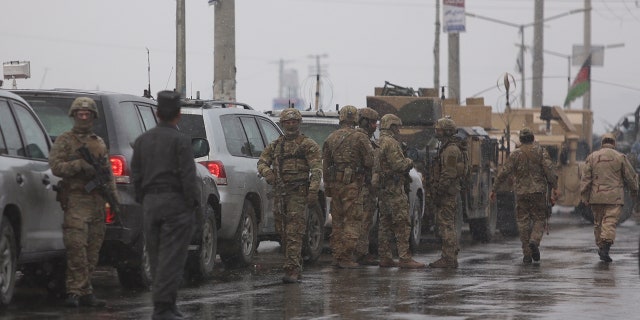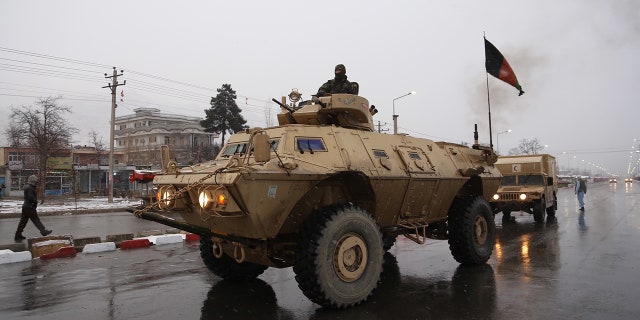 The Islamic State claimed responsibility for Monday's attack, Reuters reported, citing the terror group's propaganda agency. ISIS terrorists and Taliban militants have ramped up attacks against Afghan security force over the last month.
Monday's assault followed a suicide bombing in Kabul on Saturday, which killed at least 103 people, and a Jan. 20 attack at the Intercontinental Hotel in Kabul, which left more than 20 people — including multiple American citizens — dead.
The Associated Press contributed to this report.