35 years after infamous suicide attack, female jihadist worshiped by Palestinians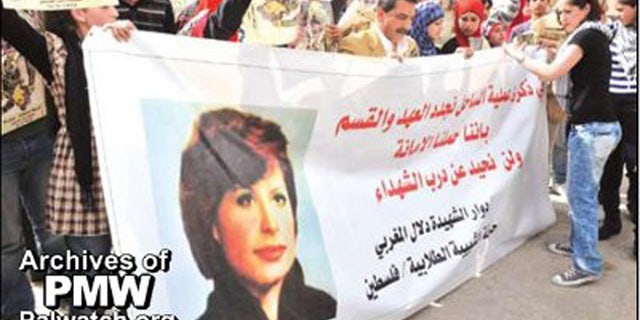 NEWYou can now listen to Fox News articles!
Thirty-five years after she led a suicide attack that killed 38 Israeli civilians, the legend of Dalal Mughrabi lives on in the Palestinian territories, where she is venerated as a heroine.
Among other signs of devotion, children sings songs of praise about her and a government sponsored dance troupe bears her name.
[youtube Y5fULiVp9so]
"We grew up in school on the personality of this Palestinian female fighter," Jordanian actress Najla Sahwil recently gushed in a television interview. "In first grade, I was throwing stones. In school we were nursed on the politics of Palestine, when we were little kids."
Mughrabi earned decades of adulation for a 1978 suicide bombing aboard a bus in which she and 10 other militants killed 38 Israeli civilians, including 13 children.
[pullquote]
That the charismatic woman who helped execute the Palestine Liberation Organization's infamous Coastal Road massacre could be worshipped by children and role models such as Sahwil is disturbing to those who support Israel.
"When high profile Arab entertainers and artists publicly express approval for terrorism, it suggests that this point of view has wider acceptance in the popular culture and is not just a political phenomenon," said Michael Salberg of the Anti-Defamation League.
"Comments such as those made by Najla Sahwil can result in the kind of incitement which reinforces the use of violence and obstructs progress through negotiations."
Salberg said he hopes that Sahwil's quotes were taken out of the context of a more positive overall message, but said admiration for suicide terrorists is common among Palestinians and that such rhetoric undermines efforts for reconciliation.
According to Palestinian Media Watch, many Palestinian universities host Fatah committees called "Sisters of Dalal." The lead coordinator of these groups, Ayyat Salah Al-Din, said in the past that Mughrabi and others who killed civilians in the name of Palestine should be role models for students.
In addition, Fatah–the political arm of the PLO– had named a class at an institution for youth as the "Dalal Mughrabi Class" and even awarded thousands of dollars in grant money to a dance troupe named after the terrorist.
In a 2012 report, it was disclosed that Fatah had also named a summer camp for Palestinian youth called, "Sisters of Dalal Mughrabi"and that campers were told by the Jericho District Governor Majed Al-Fatiani during an assembly, "it is our national obligation to be faithful to those before us who gave and sacrificed for Palestine, and they should be a beacon for us in our activities and in guarding the achievements and capabilities of our people."