2,000 miners rally over Amplats job cuts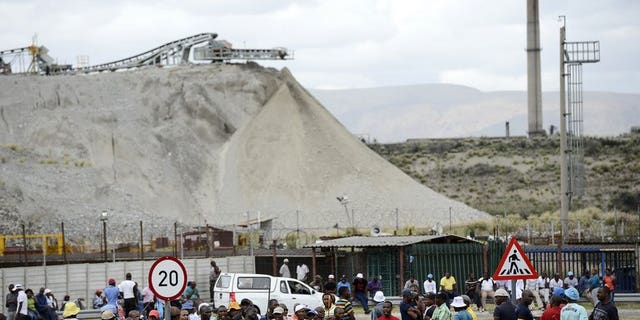 NEWYou can now listen to Fox News articles!
RUSTENBURG, South Africa (AFP) – Around 2,000 mineworkers converged at an Anglo American Platinum mine in South Africa's restive platinum belt on Tuesday over plans by the world's top producer to cut 6,900 jobs amid unrest in the sector.
Miners gathered at the Khomanani shaft in the northern city of Rustenburg to protest the Amplats plan, announced just days after South Africa marked the first anniversary of police shooting dead 34 miners at the nearby Lonmin mine in Marikana, which sparked strikes that have roiled the sector.
Workers and unions earlier threatened to strike over the restructuring project which includes closing down three operations, cutting thousands of jobs and integrating some workers elsewhere.
"People don't want to transfer. But if you don't want to transfer, your job is finished," said Themba, a 45-year-old worker who did not give his surname.
"I've got a family. I feel very bad. People here, they've got families too," he said, unsure of his future after 23 years' service at the mine.
Workers chanted at a stadium next to the Khomanani shaft, one of those due to be closed down. Some wore the trademark green shirts of the new majority union at the mine, the militant Association of Mineworkers and Construction Union (AMCU).
AMCU president Joseph Mathunjwa met with the mine's management earlier and was due to speak to the workers in the afternoon.
Amplats had first proposed around 14,000 job cuts in January, but later backed down under government pressure.
Some workers said they were not consulted.
"They never discussed it with us, now it's happening," said Mike Simane, 27, a surveyor who had just finished his shift underground.
"No one wants to lose their jobs," he told AFP.
The once-dominant National Union of Mineworkers, now a minority union at the mine, said on Monday it condemned the restructuring "in the strongest words possible".
The union accused Amplats of reneging on an earlier agreement to cut only 3,000 jobs.