Russian planes land in Venezuela, part of military cooperation, official says
Two Russian military aircraft landed at Venezuela's main airport over the weekend reportedly carrying dozens of troops and bringing an influx of equipment to help prop up the embattled Maduro regime.
The aircrafts arrived in Caracas as part of ongoing military cooperation between the two allies that will involve equipment maintenance, training, and strategy, a Venezuelan official, speaking on condition of anonymity told the Associated Press.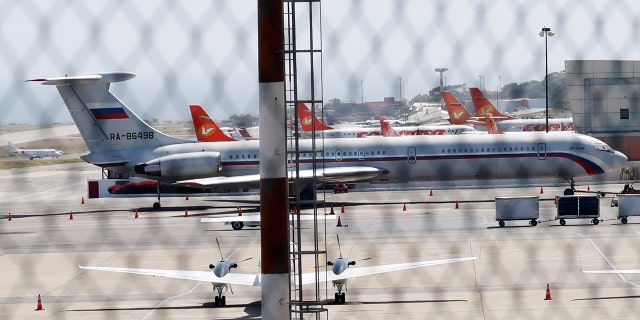 Flightradar24, a flight-tracking site, showed the flight path Saturday of what is listed as a Russian air force plane flying across the Caribbean. The Ilyushin IL-62 passenger jet had flown from Moscow via Syria, where Russia supports President Bashar Assad.
Venezuelan journalist Javier Mayorca tweeted on Saturday that the first plane also carried Vasily Tonkoshkurov, chief of staff of the ground forces. He added that a Russian cargo plane had 35 tons of materials aboard, Reuters reported.
The cargo plane left Caracas on Sunday afternoon, according to Adsbexchange, another flight-tracking site.
The arrival of the planes comes three months after the two nations held joint military exercises.
VENEZUELAN INTEL AGENTS ARREST TOP OPPOSITION AIDE AFTER ALLEGEDLY PLANTING FIREARMS, GRENADE IN NIGHT RAID
In December, the Kremlin sent two Tu-160 strategic bombers to Venezuela for several days in a demonstration of support for Venezuelan President Nicolas Maduro, who has rejected demands from the opposition and the United States and dozens of other countries that he resign.
Meanwhile, Russia has long been an ally of the socialist nation, lending it billions of dollars and backing its oil industry and military.
In the months after the U.S.-backed opposition leader Juan Guaido declared himself interim president in January, Russia has vocally opposed the Trump administration's sanctions against Venezuela.
Maduro has condemned the moves by the U.S., accusing Trump and Guaido of trying to mount a coup against him.
Last week, U.S. and Russian officials met in Rome to discuss Venezuela but remained split on how to resolve the crisis.
CLICK HERE TO GET THE FOX NEWS APP
Russia says it is concerned that the U.S. is considering military intervention in Venezuela. The U.S. says it is focusing on economic and diplomatic efforts to oust Maduro, though President Trump has said "all options are on the table."
The Associated Press contributed to this report.