12 Cuban migrants, dog come ashore on Miami's South Beach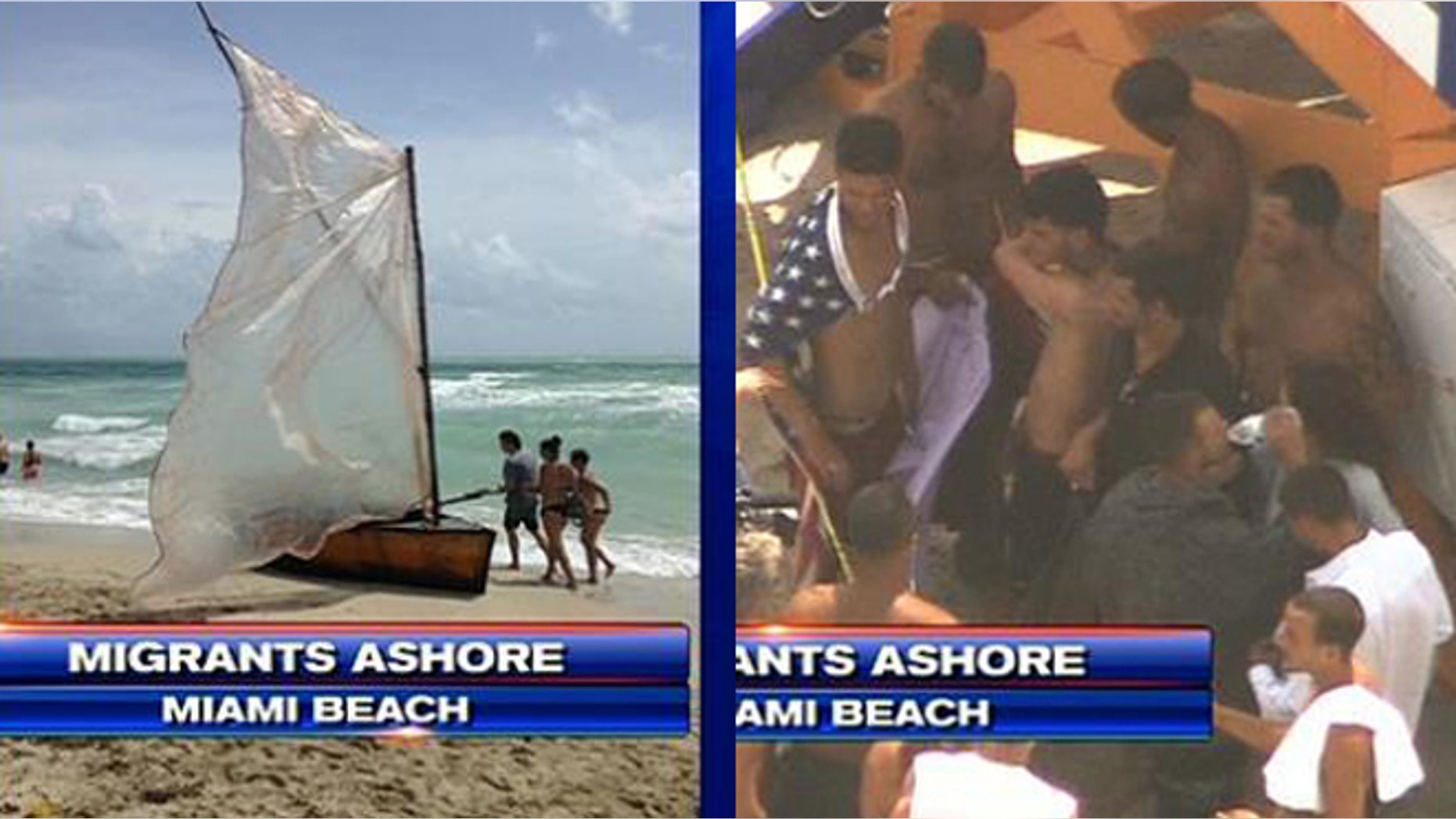 MIAMI BEACH, Fla. (WSVN) – U.S. Customs and Border Patrol are responding after a dozen migrants, and a dog, were seen coming ashore on South Beach, Tuesday afternoon.
According to officials, a customer at the South Beach Ritz-Carlton located close to the shore noticed the group of 11 males, one female and the dog, on a raft headed toward the beach shortly after 11 a.m. The Miami Herald reported they came aboard a precarious 9-ft boat propelled by a sail and oars.
The name of the dog is "Chiquitica," or "tiny one" in Spanish.
Miami Beach Police spokesperson Ernesto Rodriguez said it is unknown how long the group had been at sea.
"The trip was very bad," said Carlos Alberto Braña García, 22, to the Herald. "There was a lot of wind, a lot squalls, a lot of swells."
"God helped us and brought us here," he added. "I can't believe we made it. My head is spinning, knowing I was out at sea and was able to get here."
Braña García told the Herald they had ran out of food and water on Monday night.
"Now I want to drink a cold beer, watch good television, see friends I have here and haven't seen in a while, and trust in God to give me a better future," he said. "I want to work to have a good future."
Under the 1966 Cuban Adjustment Act, or "wet-foot-dry-foot" policy, if the migrants are Cuban, they would be allowed to remain in the United States legally.
WSVN-TV - 7NEWS Miami Ft. Lauderdale News, Weather, Deco
"Our Ocean Rescue spotted 11 males, one female and one dog, I'm being told, near 17th Street and the beach. Right now, what we're doing is we're waiting for Border Patrol to arrive and take over the scene," said Rodriguez.
"We have Miami Beach Fire Rescue to tend to any immediate medical needs they may have, and our officers are there standing by as well for Border Patrol."
Hotel staff responded to the scene to provide fresh food and water to the migrants.
Beachgoers are also taking the clothes off their backs and reaching into their wallets to give to the group.
The fate of the migrants will ultimately be decided by officials.