Suburban NYC police officer shot, hospitalized, suspect killed by FBI agent, officials say
The Yonkers police detective, a 27-year-veteran of the force, is expected to survive
NEWYou can now listen to Fox News articles!
A New York City-area police officer was shot Wednesday and a suspect was killed by the FBI during a takedown of three suspects, officials said.
The shooting occurred in Yonkers, which borders the Bronx to the north. Yonkers police officers assigned to the Safe Streets Task Force were conducting a joint investigation with the FBI around 2:10 p.m. when they attempted to take three suspects into custody in connection with an illegal gun investigation near Elm and Lincoln streets, authorities said.
Two of the suspects ran into a nearby convenience store. At one point, a suspect attempted to push past a Yonkers police detective.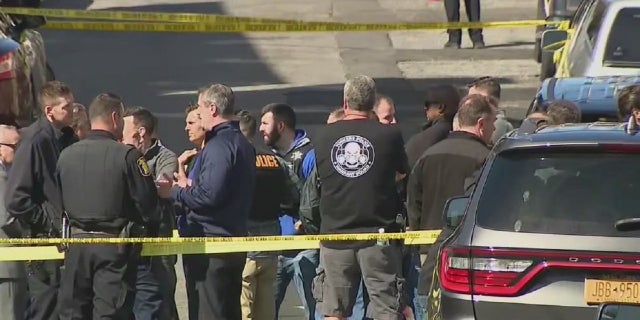 "When our Yonkers detective pushed him back, it appears that he fired one shot at our detective from his pocket, Yonkers Police Commissioner John J. Mueller told reporters.
An FBI agent who was part of the task force returned fire, killing the 28-year-old suspect, officials said. Surveillance video captured the incident.
The detective, a 27-year-veteran of the police force, was wounded in the abdomen and was listed in critical but stable condition. He lost a "tremendous" amount of blood and had damage to his colon, intestines and kidneys, Mueller said. However, he is expected to recover.
Police recovered two illegal guns after the shooting. The two other suspects were taken into custody.
It was not clear if they have criminal records, Mueller said. Their identities were not released, as well as that of the injured officer.
Yonkers Mayor Mike Spano noted the city has had only three shootings this year, compared to multiple gunfire incidents last year.
CLICK HERE TO GET THE FOX NEWS APP
"There's just too much of this happening nationwide and something has to be done," he said. "Elm Street is a hot spot. It's been a hot spot for a long time and that's some that we have to address."