Michigan police officer charged with murder in Patrick Lyoya shooting
Patrick Lyoya, 26, was on the ground when he was shot in the head by Grand Rapids Officer Christopher Schurr, prosecutors said
NEWYou can now listen to Fox News articles!
A Michigan police officer who fatally shot a Black man in the back of the head as he was on the ground during a traffic stop was charged Thursday with murder.
Grand Rapids Officer Christopher Schurr faces a second-degree murder charge in the April 4 killing of 26-year-old Patrick Lyoya, Prosecutor Chris Becker said. The shooting was recorded by a bystander. He turned himself in and is slated to appear in court Friday.
"The death was not justified or excused ... by self defense," Becker said.
The shooting began when Schurr, who is White, pulled Lyoya over because his license plate did match the vehicle. About a minute into the stop, Lyoya began running when he was asked to provide his driver's license. Schurr quickly caught up to him and both men struggled on the ground.
PENNSYLVANIA FIRST RESPONDERS RESCUE TWO PEOPLE STUCK IN CHOCOLATE FACTORY TANK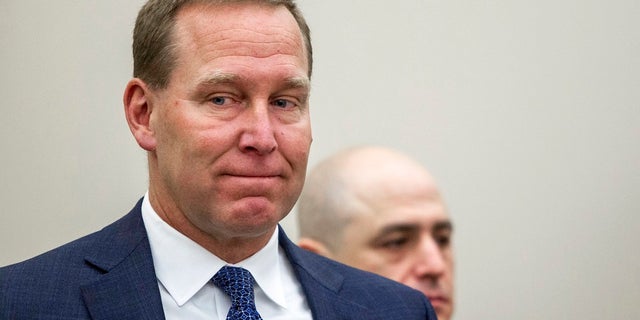 Schurr fired the fatal shot while Lyoya was on the ground, demanding that the 26-year-old refugee from Congo "let go" of the officer's Taser. Becker said he consulted experts from outside Michigan about the use of force in the case. Schurr, a 7-year veteran of the police force, has not publicly commented on the deadly incident.
Across the state in Detroit, Peter Lyoya watched the televised announcement of the charges with his lawyer, Ven Johnson, and said he was pleased with the decision.
"We strongly believed there was no justice in America, until today," Peter Lyoya said. "What I want is the final justice for my son."
Fox News has reached out to the Lyoya family attorney.
Schurr's personnel file shows no complaints of excessive force but much praise for traffic stops and foot chases that led to arrests and the seizure of guns and drugs.
Black community activists weeks ago had accused Becker, a Republican, of being too close to police and urged him to give the case to the Michigan attorney general, a Democrat, to avoid even the appearance of a conflict. But the prosecutor declined.
The shooting turned into an immediate crisis for police Chief Eric Winstrom, who was a commander in Chicago before taking charge in Grand Rapids early in March. Over Becker's objections, he released video of the encounter from four different sources on April 13.
This is a developing story. Check back for updates.