Longtime leader of ACLU's Southern California chapter dies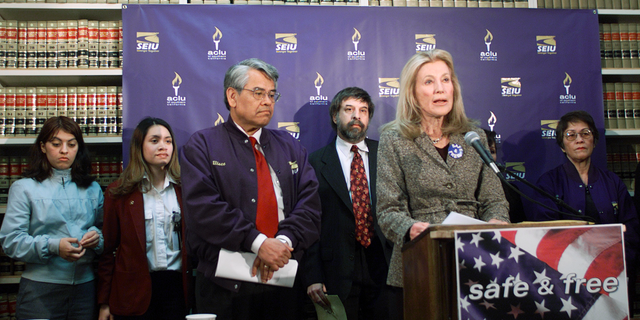 LOS ANGELES – Ramona Ripston, a longtime activist who built up the American Civil Liberties Union of Southern California into a major organization, has died. She was 91.
Ripston died Saturday at her home after several years of illness, said David Colker, a spokesman for the chapter.
As executive director of the ACLU SoCal from 1972 to 2011, Ripston oversaw the chapter's work on issues such as the Los Angeles Police Department spying on community activists, voting rights, abortion rights, racial profiling and gay rights. She also led efforts to get California to spend more money on schools in poor and minority neighborhoods, ACLU SoCal said in a statement on its website.
"She had two things that are all too precious in this world — a vision of a better future and the courage to pursue it," said Hector Villagra, the executive director of the ACLU SoCal. "There are few people who provide such a shining example of living out their beliefs."
Ripston was able to establish good relationships between ACLU SoCal and the LAPD, convincing then-Chief Ed Davis to be the first LAPD chief to attend an ACLU SoCal event.
Ripston led the chapter's growth from one office above a coffee shop and a wig store to four locations, including the headquarters in downtown Los Angeles that has been named the Ramona Ripston Center for Civil Liberties and Civil Rights.
The ACLU's national leader praised her work.
"Ramona was a fierce and unrelenting opponent of injustice and oppression, who often drew the ire of those who stood in the way of reform," Anthony Romero, executive director of the national ACLU, said in a statement. "But no one could deny her unflinching commitment to the protection of civil liberties and the improvement of people's lives. She leaves behind a powerful legacy of selflessness that will continue to inspire advocates both inside and outside the ACLU."
Ripston drew criticism within the ACLU for some of her policies, the Los Angeles Times reported. Former Los Angeles Police Chief Daryl Gates derided her as "Ramona the Ripper," and conservative radio's Rush Limbaugh labeled her and her husband "left-leaning commie socialists," the Times reported.
TV producer Norman Lear, who worked with Ripston at his People for the American Way organization, told the Times that she inspired him. "Just knowing her caused one to lean in every direction she leaned in," said Lear, one of many celebrities with whom she made alliances.
Ripston was born in New York City and started working for the ACLU there as a volunteer.
She is survived by her daughter, Laura Ripston, and son William Caplin. Her son Mark Caplin died in 1994.