Left-wing student charged for attacking pro-life protest
NEWYou can now listen to Fox News articles!
Police detained a left-wing student activist at Indiana University, Bloomington after he tried to steal, spray-paint and rip apart signs from a pro-life group protesting on campus.
Thomas Metcalf, 21, a member of the Young Democratic Socialists of America at IU and Black Lives Matter, was charged with disorderly conduct, vandalism, and larceny-theft on Oct. 4 attacking Created Equal, an anti-abortion group that puts up graphic images of aborted children on posters.
HAIRSTYLIST SEEN IN VIDEO KICKING PRO-LIFE DEMONSTRATOR IS ARRESTED – AND POLICE ALLEGE IT'S NOT HIS FIRST ATTACK
"You all are pieces of sh** and you are harming women! F*** you!", Metcalf yelled at pro-life protesters before allegedly driving off with the group's pro-life signs in the back of his car in video footage posted by Created Equal on Oct. 10. Metcalf was also caught on camera spray-painting their signs while the group, as well as an IU administrator, asked him to stop.
Metcalf became the latest liberal activist detained by police for targeting conservatives, joining Jordan Hunt, a Toronto hairstylist, who lost his job and was arrested Saturday for violently kicking a female pro-life activist after he tried to steal one of their signs.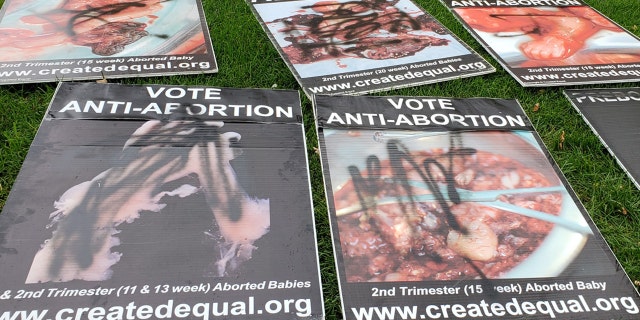 "Thankfully in this case, no one got harmed, but unless abortion advocates call for civility, I don't know how long that is going to last," Mark Harrington, President of Created Equal told Fox News.
"When leaders of the political left from Eric Holder to Corey Booker to Hillary Clinton are making statements that Democrats should not be civil in dealing with whom they disagree, it follows that abortion activists like Metcalf are going to take those words to heart and act upon them," Harrington said. "The over-heated rhetoric beginning with the response to President Trump's election to the confirmation hearings of Judge Brett Kavanaugh have reached an alarming level. It figures that we are being attacked on college campuses."
TRUMP BLASTS ERIC HOLDER OVER 'KICK 'EM' COMMENT: 'DISGUSTING STATEMENT'
Chuck Carney, IU spokesman, told Fox News university staff and IUPD correctly handled the situation by defusing the situation, taking the student into custody, and protecting free speech on campus.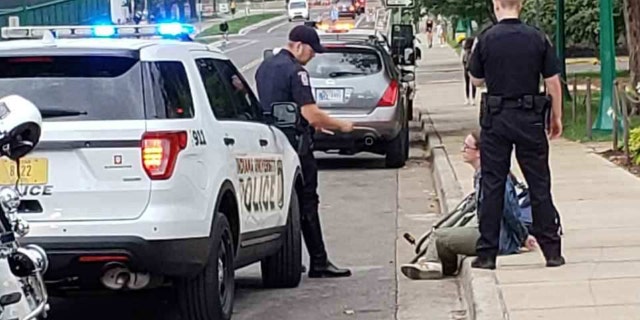 Police reported Metcalf refused to talk to officers without a lawyer and tried calling his mother and yelled into the phone about getting one before obeying commands to hang up.
SUSAN RICE'S REPUBLICAN SON ALLEGEDLY PHYSICALLY ASSAULTED AT PRO-KAVANAUGH EVENT
"Why do you do this?" Metcalf asked the Created Equal activist filming him.
"Cause I think it's wrong to kill human beings. Why do you do this?" he asked him.
WARNING: OFFENSIVE LANGUAGE CONTAINED IN VIDEO
"Because you want women to be child-rearing surrogates that don't have any rights, and I f***ing hate you," Metcalf replied. "You don't know anything about biology. You don't know anything about reproductive health. You people are f***ing disgusting."
'LEFTIST MOB' RIPS UP SIGNS, HURL EXPLETIVES AT CONSERVATIVE STUDENTS SUPPORTING KAVANAUGH
Metcalf held a "Your Voice Matters" sign at a rally against Justice Kavanaugh earlier this week.
"Alright everybody, listen up. I know this is a dark time in American history and a lot of you are very scared," Metcalf said through a megaphone. "I was fortunate enough to be born a straight, white male, but I am not America…Donald Trump is not the one in power, we are the one in power! Let's be the change we want to see!"