FOX NEWS FIRST: Trump rails against North Korea and China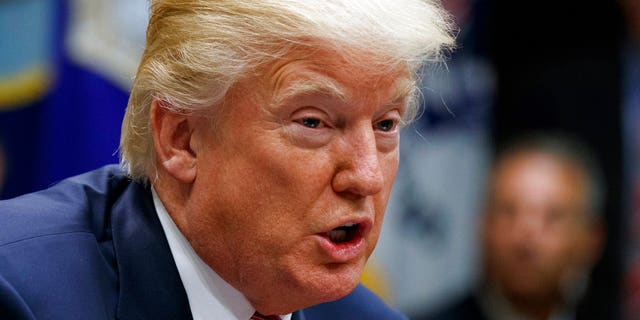 Developing now, Friday, Dec. 29, 2017:
? Trump rails against North Korea and China, expects Mueller to be 'fair.'
? Professor who blamed 'Trumpism' for Las Vegas massacre resigns.
? More trouble for ex-Clinton aide Huma Abedin: Her cousin is convicted.
? At least 12 dead in horrific New York City fire.
THE LEAD STORY: President Donald Trump railed against "nuclear menace" North Korea and fumed at the reports China illegally delivered oil to the Hermit Kingdom, exclaiming "That wasn't my deal!" during a wide-ranging interview Thursday with the New York Times. Trump also spoke about special counsel Robert Mueller's Russia probe, saying he believed he was "going to be treated fairly" by Mueller and ultimately be vindicated.
? Trump's infrastructure overhaul to be detailed next month
DREXEL DEPARTURE: A far-left Drexel University professor -- known for making inflammatory remarks on social media -- is resigning from his teaching job, blaming a right-wing "internet mob" for alleged "harassment." George Ciccariello-Maher, an associate professor of politics and global studies at the Philadelphia school, will be leaving next year, he said Thursday. He blamed "right-wing, white supremacist media outlets and internet mobs" that allegedly harassed him for nearly a year.
? Conservative Christian college to open in 2018
MORE ANGUISH FOR ABEDIN: A first cousin of Huma Abedin, a former aide to presidential candidate Hillary Clinton and soon to be ex-wife of disgraced former U.S. Rep. Anthony Weiner, was convicted Tuesday in a fraud case involving fake emails. Omar Amanat, 44, and his colleague Kaleil Tuzman face more than a decade in prison after a jury in New York City found the pair guilty of cooking the books and defrauding shareholders of the technology company Kit Digital between 2010 and 2012. Amanat's brother, Irfan Amana, was also arrested in the United Arab Emirates and faces charges of fraud with the same tech firm, the New York Post reported.
? State Dept. struck deal with Clinton, Abedin
DEADLY FIRE IN NEW YORK: At least 12 people were killed and others injured after a massive fire broke out in a New York City apartment building, Mayor Bill de Blasio said at a news conference Thursday night. "Tonight here in the Bronx, families have been torn apart," de Blasio told reporters. The mayor called the event the "worst fire tragedy we have seen in this city." More than 160 firefighters were on the scene of the four-alarm fire, located at a five-story walk-up apartment house in the Bronx, just a block from the borough's famed zoo.
? It's cold enough to freeze your dog in much of the US
AS SEEN ON FOX NEWS
TRUMP'S NEW RULES: "We do believe there are many things that happened that night, that if one of those things didn't happen, Aaron might be alive today." – Gold Star father Billy Vaughn, praising President Trump's efforts to change Obama-era rules of engagement in the war against ISIS, on "The Ingraham Angle." WATCH
MAKE IT MERIT-BASED: America "absolutely need[s] to clamp down on our method of immigration. … We need to overhaul our program so it is based on merit." – Dr. Zuhdi Jasser, president of the American Islamic Forum, on "Your World with Neil Cavuto." WATCH
ACROSS THE NATION
Democrat Franken says goodbye to Minnesota supporters

Elderly New York mobster calls 8-year term a "death sentence."

Ruling against Chicago police officer blasted as "political decision."

MINDING YOUR BUSINESS
What tax reform really means for small businesses
Apple's Tim Cook now required to fly private company plane

The worst business blunders of 2017
NEW IN FOX NEWS OPINION
Tammy Bruce: Rape, sex trafficking and disease on U.N.'s watch.
Daniel Henninger: There were two Trump presidencies in 2017.
Ari Fleischer: Trump's first year – in football terms.

HOLLYWOOD SQUARED
Rose Marie, who starred on "The Dick Van Dyke Show," dead at 94.

Drew Barrymore is not "hungry" for love anymore.

Amanda Bynes teases a return to acting in 2018.

DID YOU HEAR ABOUT THIS?
'Eagle' Cam catches birth of two baby birds as the Internet cheers.
Indiana lawmaker wants Colts to reimburse fans if players kneel for anthem.

Van crashes into Seattle Gap store; injuries reported.
STAY TUNED
On Fox News:
Fox & Friends, 6 a.m. ET: Chef George Duran; pet care expert and radio host Charlotte Reed; NHL deputy commissioner Bill Daly; "Catch a Contractor" host Skip Bedell.
Your World with Neil Cavuto, 4 p.m. ET: Gordon Chang, foreign affairs ournalist and author of "Nuclear Showdown: North Korea Takes Over the World."
The Story with Martha MacCallum, 7 p.m. ET: Former NYPD Commissioner Bernard Kerik.
On Fox Business:
Mornings with Maria, 6 a.m. ET - Bill Briggs, Deloitte CTO; Marc Lotter, former special assistant to President Trump and former press secretary to Vice President Pence; Mark Penn, Former Clinton 2008 presidential campaign chief strategist, President Clinton re-election 1996 chief strategist and Microtrends Squared author and Mark Everson, former IRS commissioner.
Varney & Company – 9 a.m. ET - Louie Gohmert, Texas Republican congressman and House Judiciary Committee member; and Rodney Davis, Illinois Republican congressman and deputy House whip.
Cavuto: Coast to Coast – Noon ET – Rep. Chris Stewart, R-Utah, member of House Intelligence Committee.
The Intelligence Report – 2 p.m. ET - Rep. Sean Duffy, R-Wis.
Risk & Reward – 5 p.m. ET - Rep. Andy Biggs, R-Ariz., House Freedom Caucus member.
Dana Perino talks with Chris Wallace, host of "FOX News Sunday," about the state of journalism and how President Trump has changed the way the media covers presidents.
New Year's Eve celebrations will take place across the country on Sunday.
FOX's Eben Brown speaks with Jesse Watters and Lisa Kennedy about hosting their 'All-American New Year' special on FOX News.
Plus, commentary from FOX News Politics Editor Chris Stirewalt. And good news from FOX's Tonya J. Powers.
Want the Fox News Rundown sent straight to your mobile device? Subscribe through Apple Podcasts, Google Play, and Stitcher.
#OnThisDay
1972: Eastern Air Lines Flight 401, a Lockheed L-1011 Tristar, crashed into the Florida Everglades, killing 101 of the 176 people aboard.
1890: The Wounded Knee massacre took place in South Dakota as an estimated 300 Sioux Indians were killed by U.S. troops sent to disarm them.
1845: Texas was admitted as the nation's 28th state.
Thank you for joining us on Fox News First! Enjoy your Friday and New Year's weekend! We'll see you in your inbox first thing Tuesday morning.