FOX NEWS FIRST: Trump Organization may face charges over Cohen hush money; Trump vs. Sessions escalates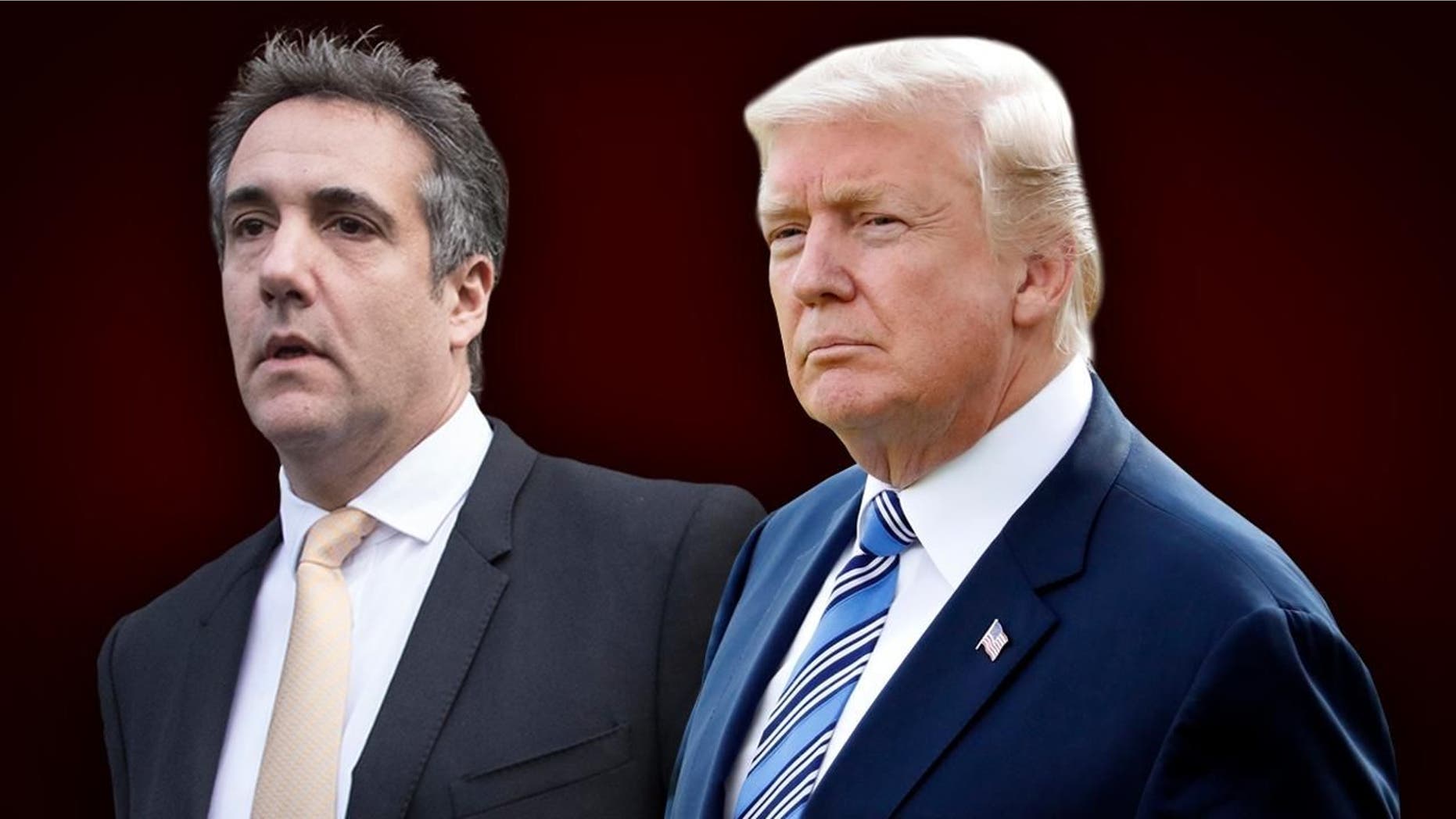 Welcome to FOX News First. Not signed up yet? Click here.
Developing now, Friday, August 24, 2018
The Trump Organization and two senior company officials may face criminal charges stemming from the hush money former Trump lawyer Michael Cohen paid to porn star Stormy Daniels, according to a report 
A war of words between President Trump and Attorney General Jeff Sessions broke out over a FOX News interview where Trump slammed Sessions for never taking 'control' of his Justice Department; Sessions has vowed the DOJ would not be influenced by politics
The attorney for Mollie Tibbetts' accused killer dismissed claims that his client is an illegal immigrant as 'rhetoric'
EXCLUSIVE: U.S. Rep. Duncan Hunter denied using campaign funds for personal spending and called the criminal indictment against him and his wife 'pure politics' in a FOX News interview
Hurricane Lane, now a Category 3 storm, battered Hawaii with heavy rain and triggered landslides as emergency crews rescued five trapped tourists
THE LEAD STORY - CRIMINAL CHARGES FOR TRUMP ORGANIZATION? - The Manhattan district attorney's office in New York City may push for criminal charges against the Trump Organization and two senior officials at the company over hush money that former Trump attorney Michael Cohen paid to an adult-film actress, according to a report ... Investigators led by District Attorney Cyrus R. Vance Jr. would look at how the company accounted for its reimbursement to Cohen for the $130,000 he paid to Stormy Daniels, who claims to have had an affair with President Trump, the New York Times reported. Two officials with knowledge of the matter told the Times that the possible action was still in its early stages and no decision has been made on whether the state investigators will go after the Trump Organization.
TRUMP VS. SESSIONS: Attorney General Jeff Sessions fired back Thursday at President Trump for saying he "never took control of the Justice Department," putting out a sharp statement vowing the agency won't be "improperly influenced" by politics ... Trump had made the comments in a wide-ranging interview with "FOX & Friends." The president, on the heels of the conviction of former campaign chairman Paul Manafort, continued to fume over Sessions' recusal from the Russia investigation. Sessions countered in a written statement, saying, in part: "While I am Attorney General, the actions of the Department of Justice will not be improperly influenced by political considerations."
The president for months has railed against Sessions over his recusal, but the attorney general has hung on, occasionally pushing back publicly. The president discussed Sessions when asked in the Fox News interview if he would fire his AG and Deputy Attorney General Rod Rosenstein after the midterms. He didn't rule it out, but said he wanted to stay "uninvolved."
The latest public spat between Trump and Sessions came as New York's attorney general is reportedly looking to open a criminal investigation into whether Michael Cohen violated state tax law. The Associated Press reported that New York Attorney General Barbara Underwood recently requested a criminal referral from the state tax department to investigate and potentially file charges against Cohen, the former personal attorney for Trump.
ILLEGAL IMMIGRANT 'RHETORIC': The attorney of Mollie Tibbetts' suspected killer fought back Thursday night against investigators' statements that his client, Cristhian Rivera, is an illegal immigrant, calling it "rhetoric" ... "That's your rhetoric on it," attorney Allan Richards told Fox News' Martha MacCallum on "The Story." Immigration and Customs Enforcement (ICE) said Wednesday that Rivera, 24, has been in the U.S. illegally, and lived in Iowa for four to seven years. MacCallum argued that his immigration status is "just a fact," but Richards pushed back — continuing to refer to it as the anchor's "point of view." "You want to jump to say they're facts," Richards said. "Have these people been under oath? Have these people provided the opportunity to Cristhian to present his point of view on the matter?"
'PURE POLITICS': U.S. Rep. Duncan Hunter, R-Calif., told FOX News on Thursday night that charges filed against him and his wife, Margaret, were "pure politics" and that he never used campaign funds for personal spending ...  Hunter and his wife were indicted on charges of illegally converting $250,000 in campaign funds for personal expenses and filing false records. They pleaded not guilty on Thursday. Speaking to FOX News' Martha MacCallum exclusively on "The Story," Hunter said many of the trips in question "were fundraisers."  Still, he conceded, "My campaign did make mistakes. There was money spent on things, not by me but by the campaign, and I paid that back before my last election. I paid back $60,000 after I did an objective audit. This is pure politics."
PARADISE IN PERIL: As Hurricane Lane battered and drenched parts of Hawaii, emergency crews rescued five California tourists from a home they were renting in Hilo ... In an interview with the Associated Press, tourist Suzanne Demerais said a tiny waterfall and small stream flowed near the home when she first arrived with four of her friends from the Los Angeles area. But the stream turned into a torrent and the river rose rapidly over 24 hours. Hawaii County firefighters, who were in touch with the home's owner, decided to evacuate the group before the water rose further. They floated the five out on their backs, Demerais said.
"It was quite an experience because we weren't planning to have a hurricane during our vacation time," Demerais said. Hurricane Lane, which was still offshore, has lashed the Big Island with nearly 20 inches of rain in about 24 hours. It was packing maximum sustained winds of 120 mph, making it a Category 3 hurricane. Forecasters say it will move close to or over portions of Hawaii's main islands on Friday, bringing dangerous surf of 20 feet.
AS SEEN ON FOX NEWS
PRESIDENT TRUMP - THE LEFT'S PUPPETEER: "If the left exists only to oppose anything that Trump does or says, then isn't Trump in control of the left's message?"  – Tucker Carlson, in his opening monologue on "Tucker Carlson Tonight," pointing out that President Trump essentially controls the left's message, since its leaders and activists only seem to oppose he supports. WATCH
SHOULD SESSIONS RESIGN? - "The President of the United States was and is entitled to a fully engaged attorney general. He has never had that. Jeff Sessions has no command presence. He doesn't understand the job he has." – Former federal prosecutor Joe diGenova, on "Hannity," on why Attorney General Jeff Sessions should submit his resignation. WATCH
TRENDING
Recent grad tries 'open carry' in Nashville after pro-gun photo went viral earlier this year.
Homeless veteran who helped stranded woman says he can't get GoFundMe cash from couple.
Drone footage shows isolated Amazon tribe.
THE SWAMP
Michael Avenatti makes surprise visit to DNC summer meeting.
Senate approves spending bill without provision to ban arming teachers.
Pence sets sights on Moon, Mars, in NASA speech.
ACROSS THE NATION
Suspected 'Golden State Killer' faces new murder, rape charges as case is consolidated.
Ex-MSU gymnastics coach charged with lying in Larry Nassar case.
New Air Force B-2 'earth penetrating' nuclear weapon changes combat strategy.
KFC restaurant hid Arizona-Mexico drug smuggling tunnel, officials say.
MINDING YOUR BUSINESS
Treasury squashes SALT workaround in high-tax states.
Tariffs hurting American boating industry.
Monsanto slammed with 8,000 lawsuits after Roundup cancer verdict.
Magic mushrooms to treat depression? This Peter Thiel-backed startup just got FDA okay to begin trials.
Aretha Franklin left no will, here's why you should.
FOX NEWS OPINION
Marc Thiessen: The Catholic Church needs a #MeToo moment – and it should start here in Washington.
Newt Gingrich: Foreign spies are threatening U.S. colleges -- we must stop them.
Gary Shapiro: China will surpass U.S. to be world's largest economy — it's time for us to shift gears.
HOLLYWOOD SQUARED
Aretha Franklin's funeral to include Stevie Wonder, Faith Hill, Jennifer Hudson and more famous guests.
John Lennon's killer, Mark David Chapman, denied parole for 10th time.
'Bewitched' reboot in the works at ABC: report.
DID YOU HEAR ABOUT THIS?
Yellowstone bison taunter reportedly sentenced to jail.
Paris Aquarium providing sanctuary to over 600 unwanted pet goldfish.
Whale watchers have close call with humpback in Alaska.
STAY TUNED
On Facebook:
Check out 'FOX News Update,' our new Facebook-exclusive news program!
On FOX News: 
FOX & Friends, 6 a.m. ET: Special guests include: Diamond & Silk; former Kavanaugh clerk Travis Lenker; former Clinton strategist Mark Penn; Geraldo Rivera; retired Marine Jack Hart; and Lee Brice visits the All-American Summer concert stage!"
On FOX Business:
Mornings with Maria, 6 a.m. ET: Special guests include: Former U.S. Rep. Jason Chaffetz.
Varney & Co., 9 a.m. ET: Guests include: N.J. Republican Senate candidate Bob Hugin.
On FOX News Radio:
The FOX News Rundown podcast: Some say Republicans face an uphill battle at the midterm elections, after this week's conviction of ex-Trump campaign chairman Paul Manafort and guilty plea from former Trump attorney Michael Cohen. Both Democratic strategist Jehmu Greene and GOP strategist Brad Blakeman sound off on why party unity is the key to winning in November. The illegal immigrant accused of killing Iowa student Mollie Tibbetts has been arraigned on a first-degree murder charge and is being held for $5 million bail. FOX News' Matt Finn is in Iowa and breaks down the latest developments in the case. Don't miss this week's good news from FOX's Tonya J. Powers. Plus, commentary by commentator-professional wrestler, Tyrus.
Want the FOX News Rundown sent straight to your mobile device? Subscribe through Apple Podcasts, Google Play, and Stitcher.
The Brian Kilmeade Show, 9 a.m. ET: Geraldo Rivera on the Mollie Tibbetts case, the immigration debate and Michael Cohen's plea deal and potential danger to Trump; Ann Coulter on her new book, "Resistance is Futile"; Shannon Bream breaks down the Brett Kavanaugh's chances for confirmation for the Supreme Court; GOP strategist Brad Blakeman on the state of the Trump White House and the 2018 midterm elections.
On FOX News Weekend: 
Cavuto Live, Saturday, 10 a.m. ET: Former Whitewater prosecutor Robert Ray on President Trump saying some of what his former personal attorney Michael Cohen pleaded guilty to wasn't a crime. Plus, Trump said if he were to ever be impeached, the market would crash. A look at the fallout from the controversial comment.
OBJECTified, Sunday, 8 p.m. ET: Country music legend Willie Nelson looks back on his career with Harvey Levin.
Life, Liberty & Levin, 10 p.m. ET: Don't miss host Mark Levin's conversation with two prominent, young conservative voices, Townhall.com's Katie Pavlich and Candace Owens, director of communications for Turning Point USA.
#OnThisDay
1992: Hurricane Andrew smashes into Florida, causing $30 billion in damage; 43 U.S. deaths would be blamed on the storm.
1932:  Amelia Earhart embarks on a 19-hour flight from Los Angeles to Newark, N.J., making her the first woman to fly solo, non-stop, from coast to coast.
A.D. 79: Long-dormant Mount Vesuvius erupts, burying the Roman cities of Pompeii and Herculaneum in volcanic ash, killing approximately 20,000 people.
FOX News First is compiled by FOX News' Bryan Robinson. Thank you for joining us! Enjoy your day and weekend! We'll see you in your inbox first thing Monday morning.